"Welcome to the World of Luxury Designer Fans!"
Here are certain details about us that you might want to know
At Fanzart, we believe that an exquisite concoction of technology and beauty can bring about evolutionary innovation. A customer only truly embraces change through the enlightening experience of premium quality products that can walk the talk. We recognize that and imbibe that value in everything we do –– especially so when crafting our range of luxury fans.
It is this commitment, desire, and attention to detail that has see Fanzart leapfrog its competitors and soar to the top in such a short period. Today, the company has risen to prominence as a pioneer and leader in the luxury designer fans segment, and we're known to create products that not only look stylish, simple and artistic, but also efficiently robust. If your goal is to add art to your ceiling, Fanzart' stagline, "Designer Fans For Designer Homes" succeeds at describing it best. Our stellar range of designer fans not only serves the purpose of air-circulation, but also beautifies your space, by adding elements of grace, elegance and grandeur. We help you create an ambience that  makes your space the talk of the town, time-and-again!
We are available pan India and are able to deliver our products to every corner of India and neighbouring countries.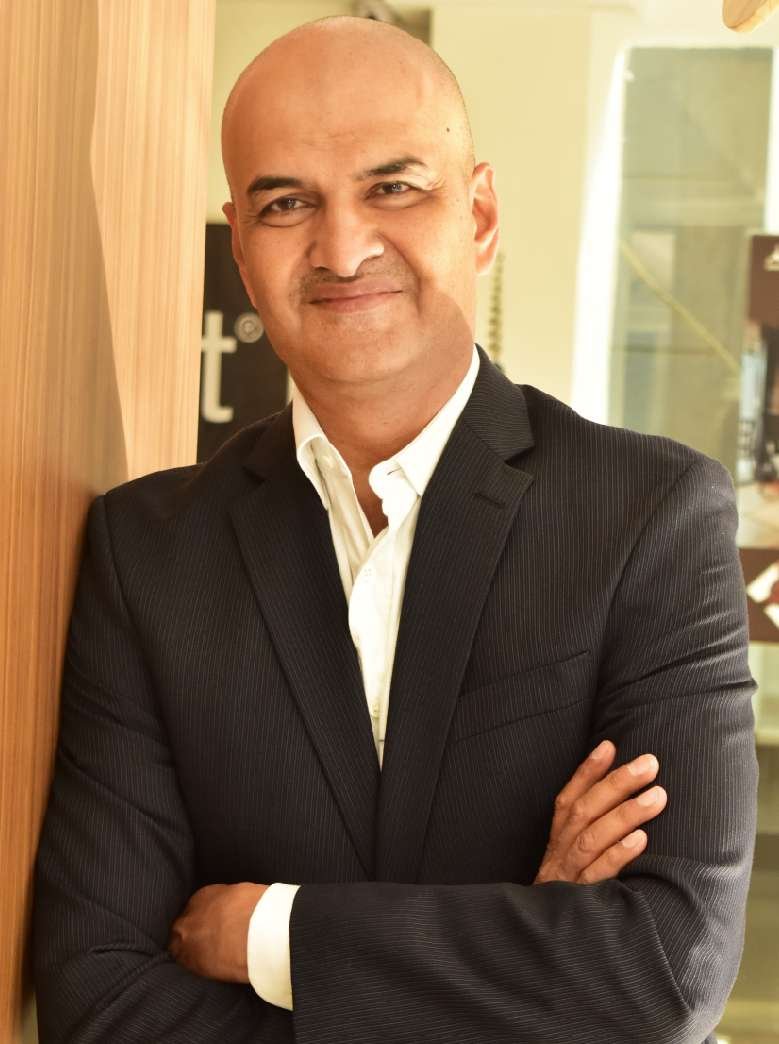 ANIL LALA
Founder & MD
A mechanical & Industrial engineer, Anil Lala began his career at Hindustan Lever as a site engineer. With a constant desire to learn from the ground up, Anil went to work with a number of small scale industries. If there is one thing that you will hear constantly reiterated about Anil Lala, it is his ability to pay attention to the minutest of details. At a chance evening out in San Diego, USA Anil and his wife Sangeeta chanced upon designer fans at a Mexican restaurant which seemed incredible.
Anil Lala went on to introduce these in India, with about a year in R & D and many changes and value additions the products became suitable for the Indian market. As the founder of Fanzart, innovation has been the constant. The brand today has over 130 models of fans that can suit any type of décor. Each model can be a topic of conversation and is driven by design and passion. Each fan is a solution to a problem sector as well. Step into any one of the showrooms and each beautifully designed fan has a story to tell. In the 10 years of its existence, Fanzart has grown to have 108 showrooms and service centres all over India with more showrooms in the pipeline.
TARUN LALA
Executive Director
Tarun Lala, a second-generation entrepreneur and Executive Director of Fanzart, a family business of luxury designer fans. His role straddles multiple universes of design, innovation, management, and digital technology. An electrical engineer from Northeastern University, USA and a Stanford entrepreneur, Tarun has been a serial entrepreneur from the get-go. As a brand, Fanzart is the only imported brand of fans that are designed and created to suit Indian conditions – a key feature that
Tarun spearheads with an intense research of the market segment.
With his background in technology, over the years, Fanzart has come up with path-breaking (some pending patents) solutions that have combined technology with functionality and aesthetics. Be it the Brushless DC motors, the SmartArt that has solved the problem of automation integration with AC and DC Fans or the speaker technology in the fans that incorporate Bluetooth technology. Tarun has elevated the humble fan from a last-mile purchase to an element incorporated right at the design level. A huge sports fan, particularly Basketball, Tarun is also the proud co-owner of Southside Warriors, a 7-member team in the Street Ball League – a first-of-its-kind 3on3 basketball tournament. Young and raring to go Tarun belongs to the universe of entrepreneurs and forward thinkers who ideate all the time and implement smartly, just as quickly.
SANGEETA LALA
President Retail
Sangeeta Lala, President, Fanzart is the epitome of the thought that it's never too late to pick up where you left off. A star graduate from the Dadar Catering College in Mumbai, with a background in science as well as travel and tourism. At the age of 50, Sangeeta along with her husband Anil cofounded Fanzart. She took to the retail side of the business, which grew rapidly, and she earned herself the title of Retail Queen in a short while.
"It's all about the passion," she asserts, whether it is looking after retail, engaging with retail and corporate clients, large and small, planning brand exhibitions or corporate evenings for brand promotion. Sangeeta Lala is a people's person, with an unmatched ability to forge new relationships and associations is a given. Her passion is a huge factor in the upward trajectory of Fanzart.
ABOUT FANZART
 Fanzart is your one-stop destination for premium designer fans in India. With extensive experience in crafting designer fans that are a blend of functionality and aesthetics inspired by various elements from around the world, we have been able to furnish dream homes with luxury fans that transcend expectations.  
 We believe that luxury fans are more than decor, they translate your vision into reality and bring spaces to life with their larger-than-life design, fine execution, and the latest technology that comes with it. 
INNOVATION IN EVERY SWEEP
 Our work stems from innovation in every sweep. The luxury fans that we have today are a result of our keen eye and labor. We take pride in being able to innovate and inspire patrons to dream beyond the ordinary and opt for excellence with our designer fans. We deploy summer-winter feature, whisper quiet technology,  human sensor, eco-feature, and 3D oscillation to make our fans a delightful addition to your homes. Our BLDC motor fans are energy efficient and convenient, ideal for a sustainable future.  
BESPOKE FANS FOR HOMES 
 We build anything but conventional fans. We have designer fans that stand out from the rest and are unique in every sense. We have a curated collection of the finest, most efficient luxury fans that are on par with the latest trends and are at the forefront of the best in the world.  
 We bring together state-of-the-art technology and our deep technical understanding with artistic brilliance to deliver world-class designer fans. We have designer ceiling fans and remote-controlled fans that are now the rage amongst homeowners. Our high-performing BLDC motor fans are the epitome of power and excellence, making them a signature of excellence. We also combine the beauty of lights with fine sweeps of air in what we like to call fandeliers. You may know fandeliers as LED designer Fans, chandelier Fans  
 We have fans of all calibers and sizes ranging from 52-inch fans to 48-inch fans, 36-inch fans to 60-inch fans, and more. Each of our fans is rendered to fit into your living space and create an aura like no other. 
 Apart from designer ceiling fans, we also cover your other fan needs with unique and well-crafted fans like recessed fans, tile ceiling fans, concealed fans, double height ceiling fans, wall mount fans, wall-mounted fans, pedestal fans, vintage fans, classical fans, modern fans, and wooden fans 
 We take pride in our range and the quality of our designer fans. All fans are crafted to perfection and with utmost attention to detail. 
THE BEST CEILING FANS IN INDIA
 Come explore the best ceiling fans for your home reveled in luxury and finesse. Our extensive range of designer fans has been approved by luxury interior connoisseurs and rated as a top choice among those looking for high-end designer fans. 
Our expertise is not limited to designer ceiling fans alone. We offer all forms of luxury and designer fans ranging from recessed fans, tile ceiling fans, concealed fans, double-height ceiling fans, wall mount fans, wall-mounted fans, pedestal fans, vintage fans, classical fans, modern fans, and wooden fans. 
Our responsibility towards our customers is not limited to sales alone. We offer end-to-end solutions from educating you on how to choose the best luxury designer fans to installation and endless customer support.  
Fanzart brings international styles to the Indian audience. Though international in appeal, our fans are specifically made for the Indian ecosystem. We have considered every aspect that a luxury fan in India would need and have accordingly tailored every aspect to meet the needs of our consumers. 
We offer the best fans with cutting-edge technology rendered in artistic brilliance. Shop elegant luxury designer fans online from Fanzart and indulge in the feeling of pure bliss. You can also visit us at one of our showrooms across the country and choose from a range of 100+ designer fans that defy ordinary and take your home to the next level.