Discover the Impressive Features of the Phoenix Designer Fan
Welcome to the future of home comfort with the Fanzart Phoenix luxury designer fan. This isn't just a fan, it's a statement piece that combines functionality, elegance, and cutting-edge technology to accentuate designer spaces. 
The Fanzart Phoenix is a modern marvel of design and engineering, boasting a stunning walnut color that adds a touch of sophistication to any room. 
The fan features three ABS walnut blades with a sweep of 1321 mm, ensuring optimal air circulation for your space.
But the Phoenix isn't just about looks. It's powered by a 153 x 15 mm DC motor, ensuring efficient and quiet operation. The fan's height is 470 mm, making it a perfect fit for rooms of all sizes.
One of the standout features of the Fanzart Phoenix is its impressive airflow of 7764 CFM. This, combined with the inclusion of a remote control, means you can adjust the fan's settings to your liking from anywhere in the room.
The Phoenix also features a Summer-Winter mode. This bi-directional rotation capability ensures that the fan keeps the air cozy during winter and cool during summer. It's a fan for all seasons!
The Fanzart Phoenix also incorporates BLDC motors for power efficiency. This means you can enjoy the comfort and luxury of this designer fan without worrying about your energy bills causing a dent to our planet's resources (or your pocket!)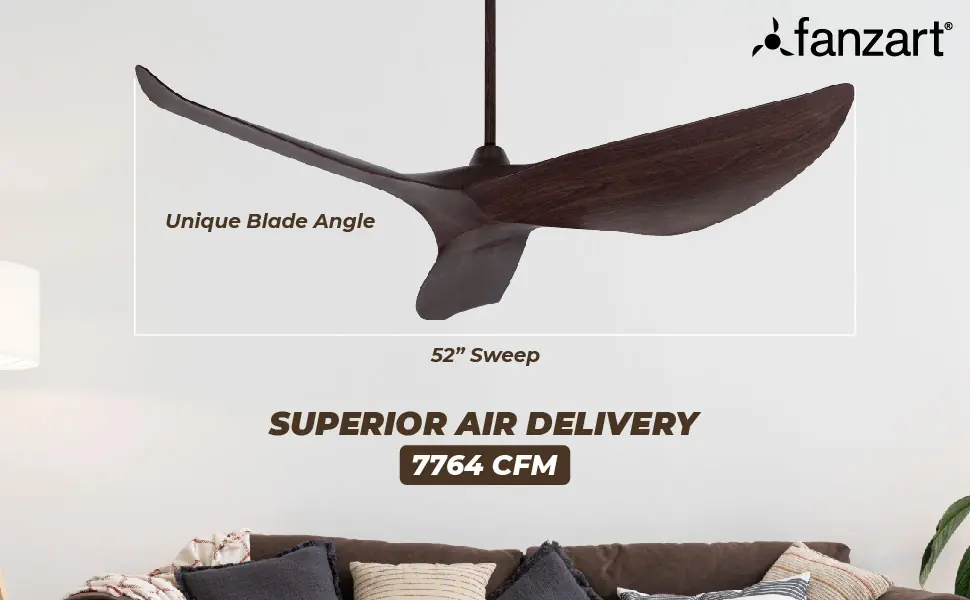 Discover the Impressive Features of the Phoenix Designer Fan
The Perfect Blend of Function and Aesthetics
The Phoenix's walnut color and ABS walnut blades add a touch of elegance and sophistication, making it a perfect addition to a variety of interior styles, from modern minimalist to rustic chic.
A Statement Piece for High Ceilings
With its 470 mm height and 1321 mm sweep, the Phoenix is an excellent choice for rooms with high ceilings. It can fill the space without being overwhelming, providing both visual interest and practical functionality.
Energy Efficiency for Sustainable Designs
For professionals committed to sustainable design, the Phoenix's BLDC motors offer power efficiency, making it a responsible choice for eco-friendly projects.
Comfort for All Seasons
The Phoenix's Summer-Winter mode allows for bi-directional rotation, providing cool air in the summer and warm air in the winter. 
This feature makes it an ideal choice for spaces that require year-round comfort, such as living rooms, bedrooms, and offices.
Ease of Use for Client Satisfaction
The inclusion of a remote control means that the end-users can easily adjust the fan's settings to their liking, enhancing their overall satisfaction with the space.
In conclusion, the Fanzart Phoenix, the luxury designer fan is more than just a fan. It's a design element that offers functionality, style, and comfort, making it a valuable addition to any professional's toolkit