Ever designed a home where a singular piece of home decor becomes the main statement piece of the room? After pioneering the luxury designer fan revolution in India (since 2012), we're proud to have worked with some of India's best Architects & Interior Designers who have added functional art to ceilings to transform spaces. 
As a special for our true 'fans', we've curated an exclusive list of our 10 Best Home Interior Design Projects where our designer fans made all the difference!  With so many projects to pick from, curating this list was a challenging task. 
We factored in how our designer fans added aesthetics, functionality & beauty to ceilings in a single masterstroke.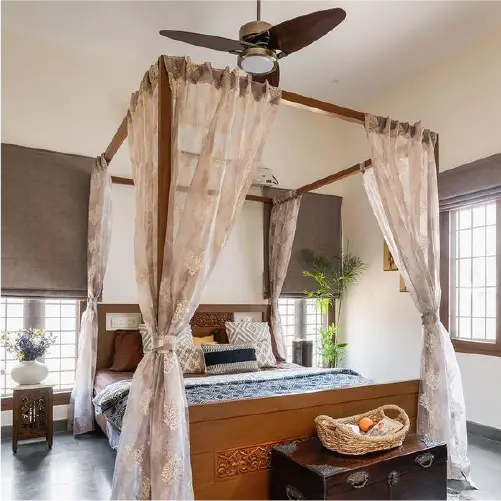 "The Farmhouse" featured on @goodhomesmagazine and @trendsmagind in July 2022. The guest room has a custom-made wooden poster cot with carved panels on the head and footboard. This along with the rosewood console, trunk, and carvings on the wardrobe accentuate a traditional theme in the bedroom.
A blend of traditional and contemporary styles adorned with colonial crafts ~ Thrissur, Kerala.
A home where volumes come into play to create juxtaposed spaces that cater to their designated needs. The combination of traditional and contemporary elements in residence evokes a sense of warmth while making it functionally aesthetic. The spaces lie in sync with nature thus ensuring a balance between the solids and voids. The extroverted architecture of this spacious home is characterized by the open spatial layout adopted by the designer.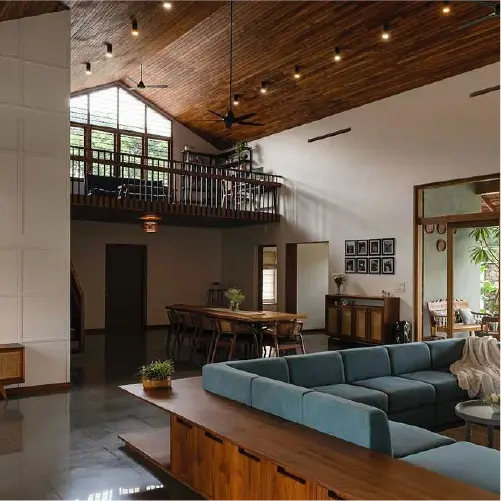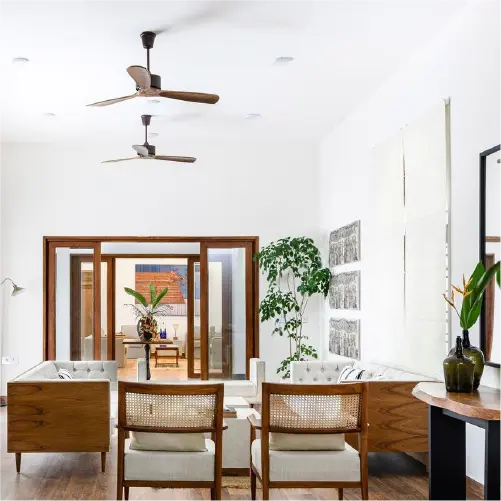 A soothing sanctuary crafted by Temple Town⁠ makes you fall in love with tropical serenity.⁠
Visualized by Meera Pyarelal @meerapyarelal of Temple Town @temple.town, the Hill Crest Home is situated atop a small hill in Thrissur, Kerala. The home renders a refreshing allure with its minimal theme and restrained materials palette of glass and wood paired with flawless whites and nature-inspired hues.
In this Residential project in Ahmedabad, the double-height ceiling had our 'Trinity' fan adding splendor with its 3 powerful fans, adding a refined industrial look to the home design. The Design Firm @darshangroup did a beautiful job of matching the interiors with our luxury fan.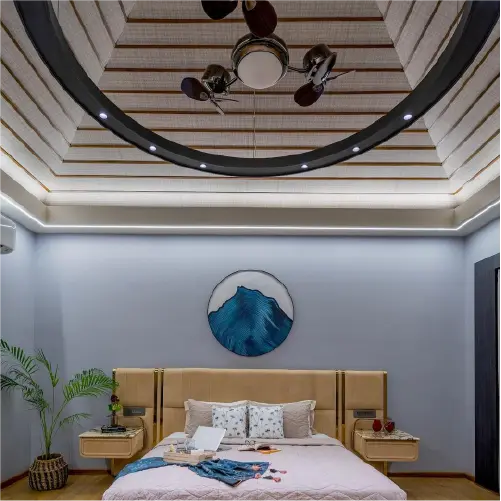 Clean lines of industrial minimalism, the vibrancy of overlaid muted tones and textures—few homes have the power to embrace you into a warm, tender hug. Confluence@MRC, nestled in a collection of seven townhouses in MRC Nagar, Chennai is one such abode that sweeps you off your feet right from the beginning. ⁠
 Diligently crafted by Karran Kumar ( @thetipsyarchitect ) and Inesh Sah ( @baka.inesh ), co-founders of AWOL Design Studio ( @awol.designstudio ), this home is a seamless concoction of various design elements. To fulfill the client's requirements, the duo researched the client's movement and circulation patterns at his weekday home in order to build a space that shields the client from noticing a dramatic contrast between his two residences, which he travels between on a regular basis. ⁠
A divine and resplendent-looking Pooja unit finished with Teak Wood to bring in the religious vibes. This unit was completed with brass beading & goddess idols inlays from @artisticks_art.
 The stone resembling tiles from @floorndecorindia cladded inside and below the unit gave a temple feel to the space. For the finishing touch, we opted for classy brass & ceramic handles and knobs from @bigthahir.
 A special mention to the elegant chandelier fan sourced from @fanzart! Isn't this a truly beautiful Pooja unit setup?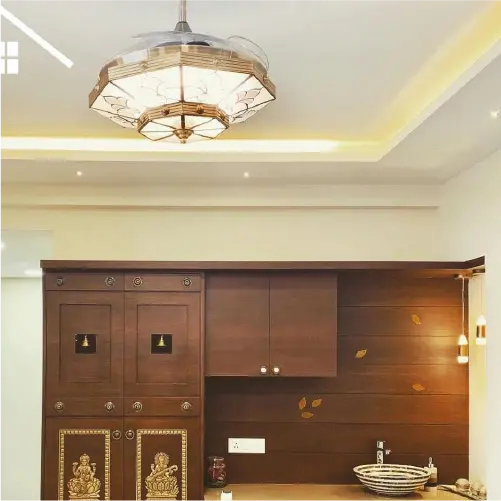 If you want your apartment or your home interior to be different and to be unique, you should definitely check out Hanging Hammer Interiors. We bring to you exclusive design solutions.
Customer made Teak wood furniture. The raw design brings just the right amount of edge into your living-space.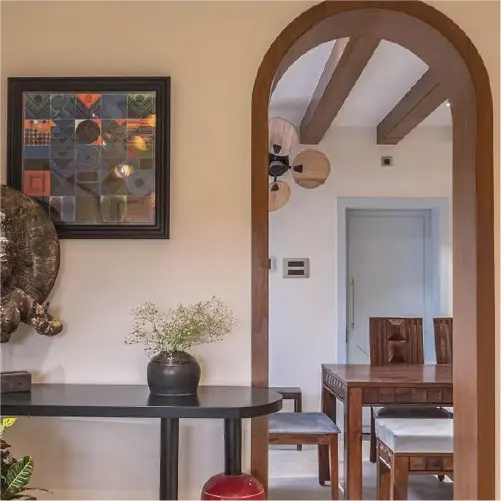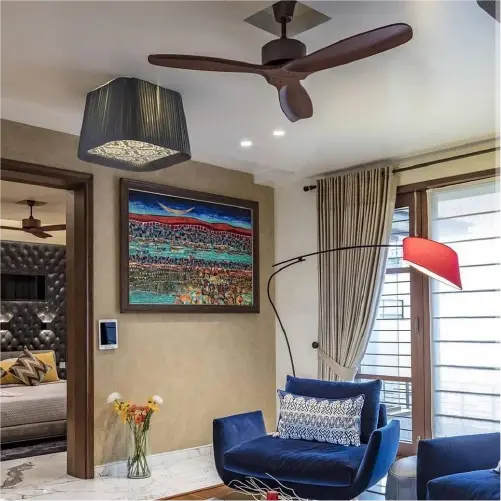 Uniquely crafted with perfection to resonate with the interiors of your choice. Fanzart Fans reinventing LUXURY. 
"My house is designed with Love & Luxury. I select each piece with love because I connect and communicate with them and so I bought home this beauty from @fanzart. 
It's not just a fan… it's my peace zone (whisper-quite technology), my mood enhancer (shimmer lights), and my friend (equipped with a Bluetooth speaker). It's definitely more than just a fan!!" ~ Sara Afreen Khan
Which one of these projects did you like best? Find the perfect designer fan for your home from our catalogue of 120+ Designer Fans.