Do you like your luxury designer ceiling fan spotless white, sleek & super-silent?
The unique designs in our top 10 best White Designer fans in 2022 come equipped with the latest innovations in fan technology, like our proprietary 'Whisper-Quiet' technology helps keep ALL of our 120+ designer ceiling fans under 40 decibels. These luxury fans add art to your interiors while having unique features like 'Summer-Winter', dedicated fan remotes for ease of control for fan speed or direction, and even BLDC Motors to turn them into energy-efficient fans that help you decorate your home!
Why Choose a White Colored Designer Fan for your home?
---
Matte-White or Glossy-White Fans: What kind of Designer Ceiling Fan should I pick for my interior space?
---
Top 10 Designer fans in White Color by Fanzart:
1 'Salsa' Glossy White Luxury Designer Fan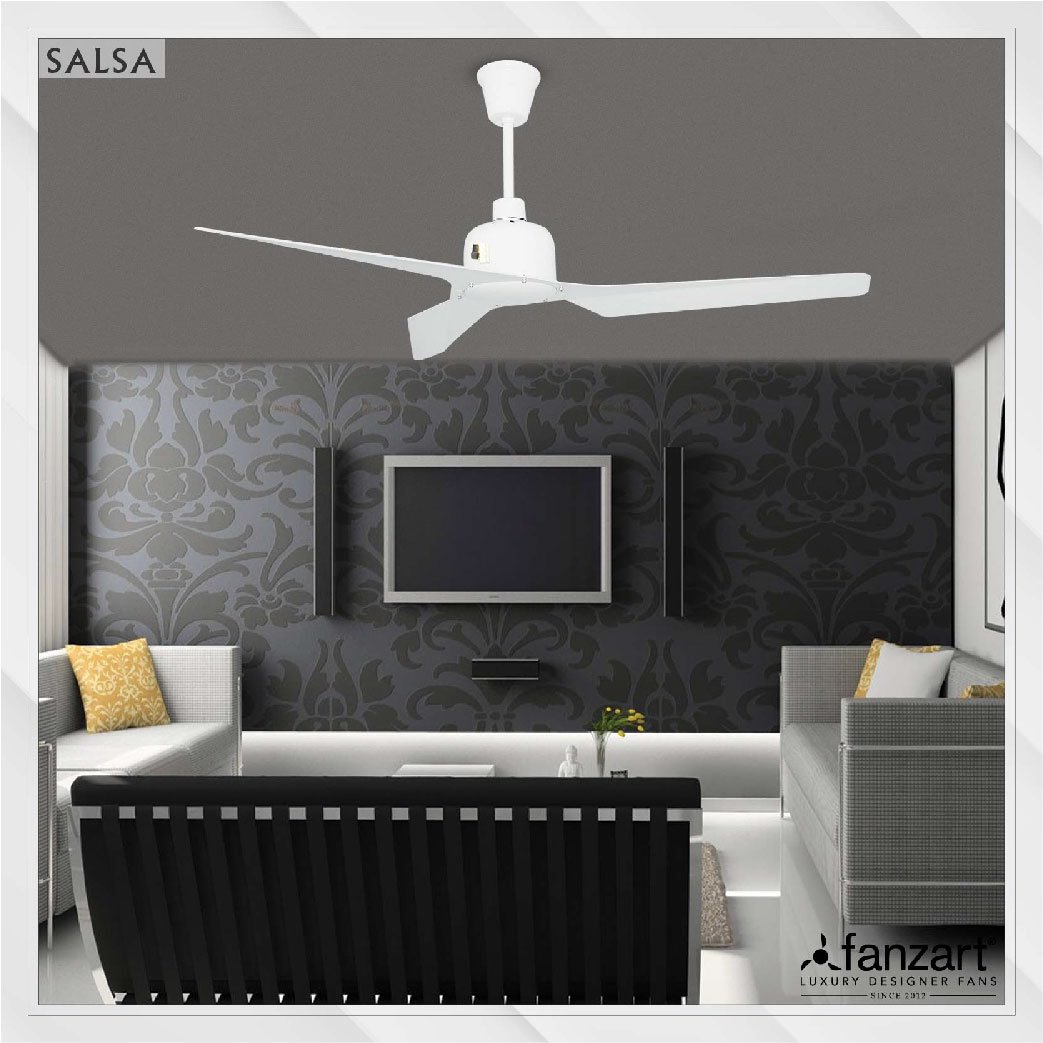 This 52-inch minimalist designer fan is Glossy White and finished with boomerang-shaped fine mirror ABS blades to accentuate the look & airflow in your bedrooms, WFH areas, or living rooms!
The fanzart 'Salsa' is also equipped with our special 'Summer-Winter' feature to help you control the temperature of the room and keep it cool during the hotter months, or warm & cozy during winter!
If moving toward the fan switch to change the fan speed or direction sounds like a cumbersome task for you, we offer a special solution where we can integrate a remote into the fan, to turn it into a remote-controlled luxury designer fan.
The fanzart 'Salsa' makes for a stunning addition to your modern interiors with a striking effect on your home ceilings. It's truly a luxury designer fan to make you feel like dancing whenever you look at your ceiling!
2 Zen Glossy White Luxury Designer Fan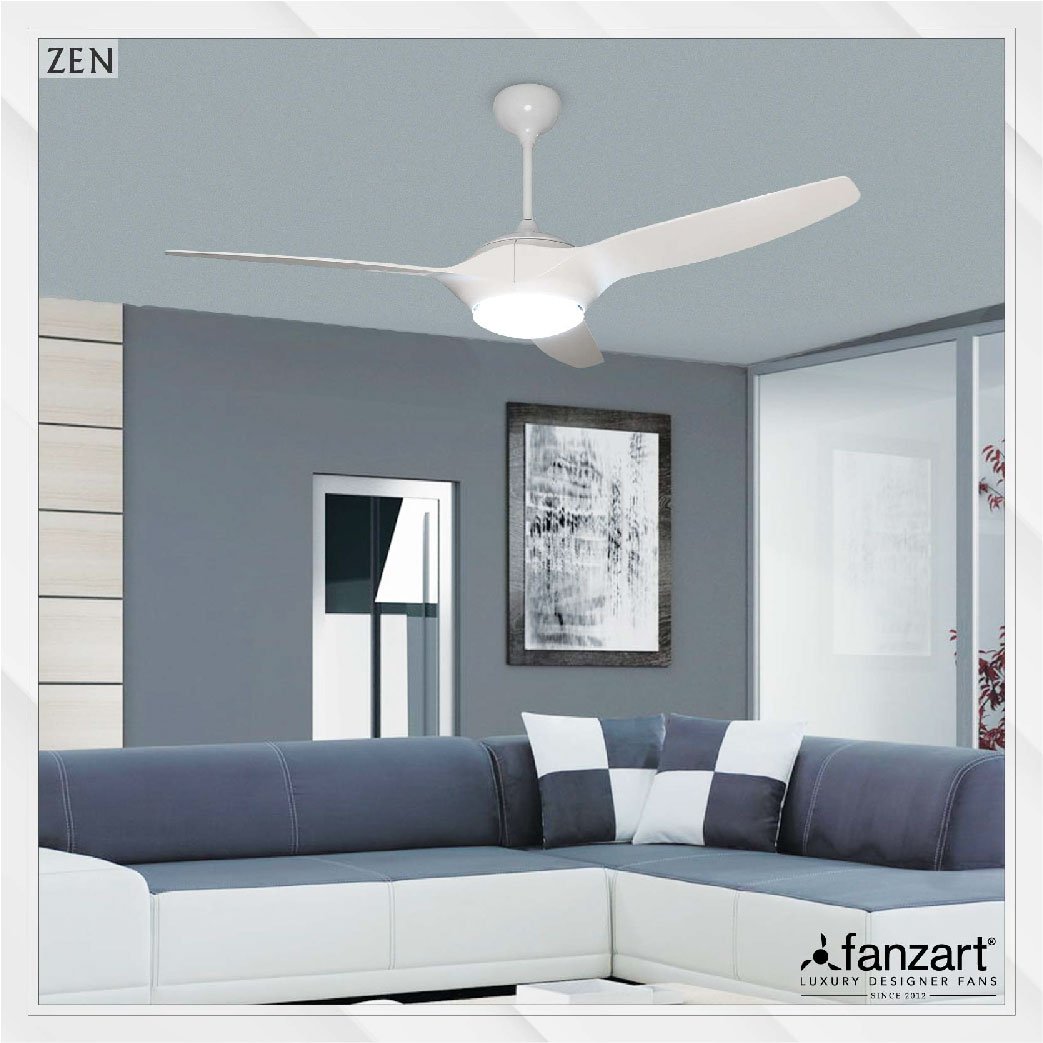 Inspired by the Japanese concept of intellectual stimulation, it is Zen's simplicity that makes it stand out. Fanzart's Zen designer fan will leave you mesmerized with its simplicity and sophistication.
The 3 ABS blades are finished with a glossy white finish giving it a mirror-like reflection. This 56-inch designer fan is equipped with multi-colored LED light, the remote enables you to switch between warm light, daylight/white light, and cool light options.
The Fanzart Zen emits a surreal aura and is best suited for Bedrooms, Dining areas, Drawing rooms, Dressing rooms, Family rooms, Hall, Living areas, Living rooms & TV Rooms.
3. Magnolia Luxury Designer Matte White Coloured fan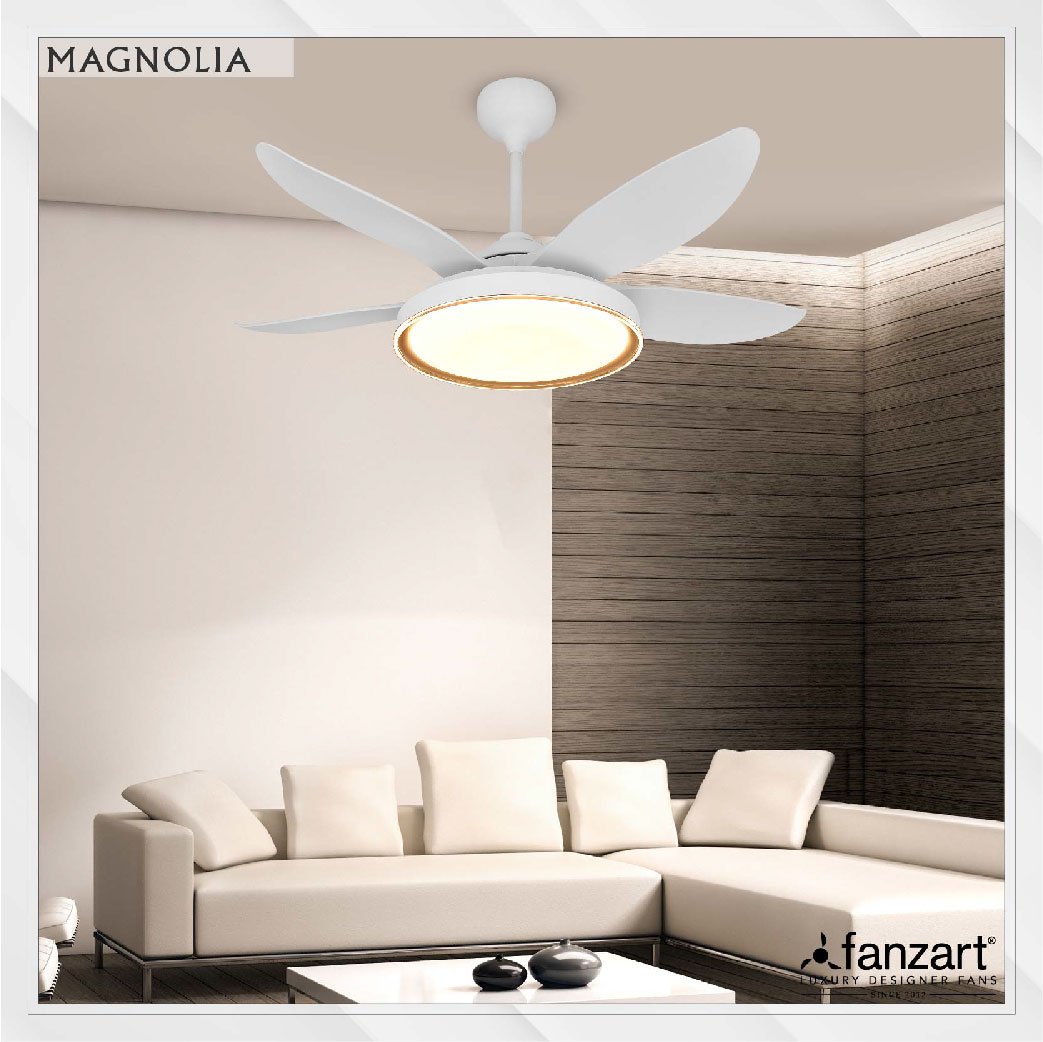 4. 'DIVINE' White Designer Fan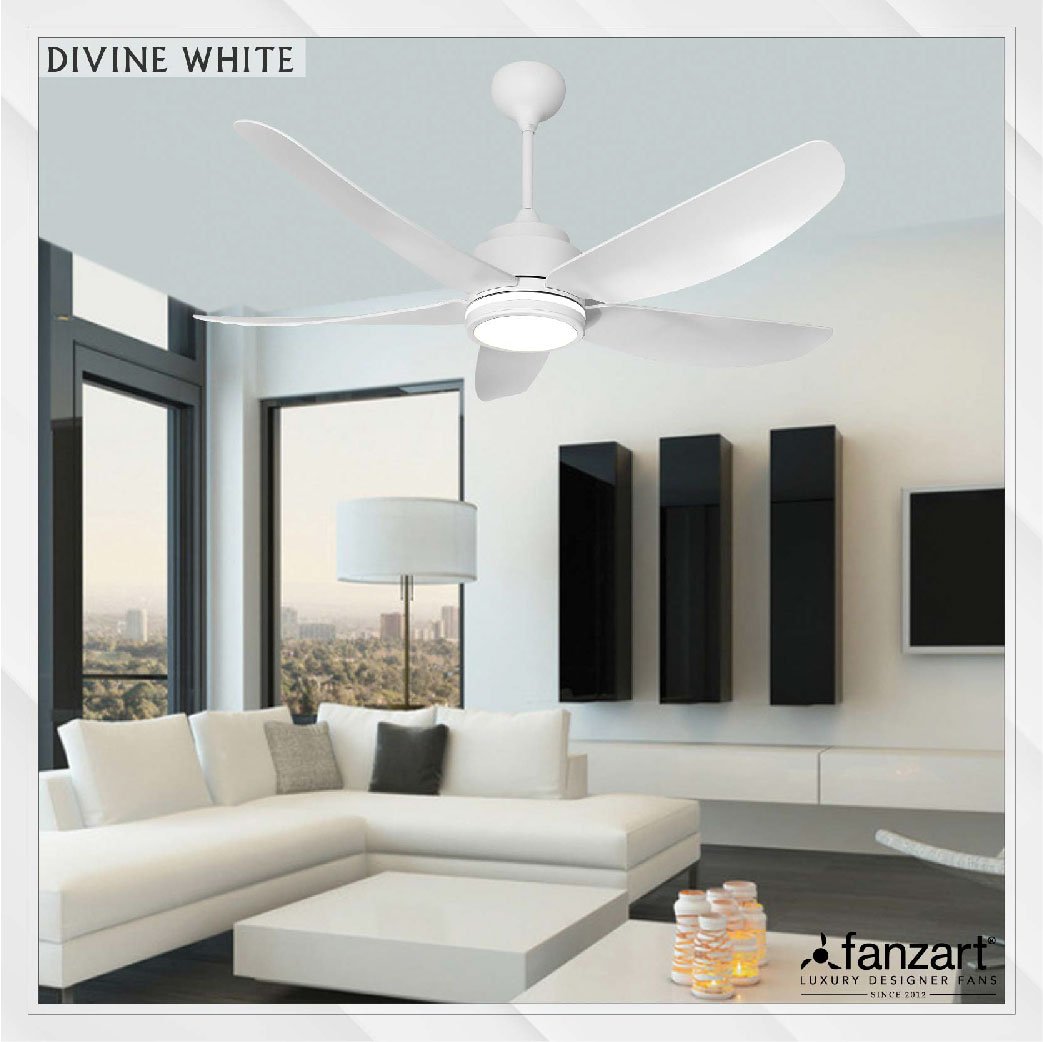 5. 'Pappu' Designer White fan in Glossy Finish
6. 'Shimmer' Glossy White Designer Fan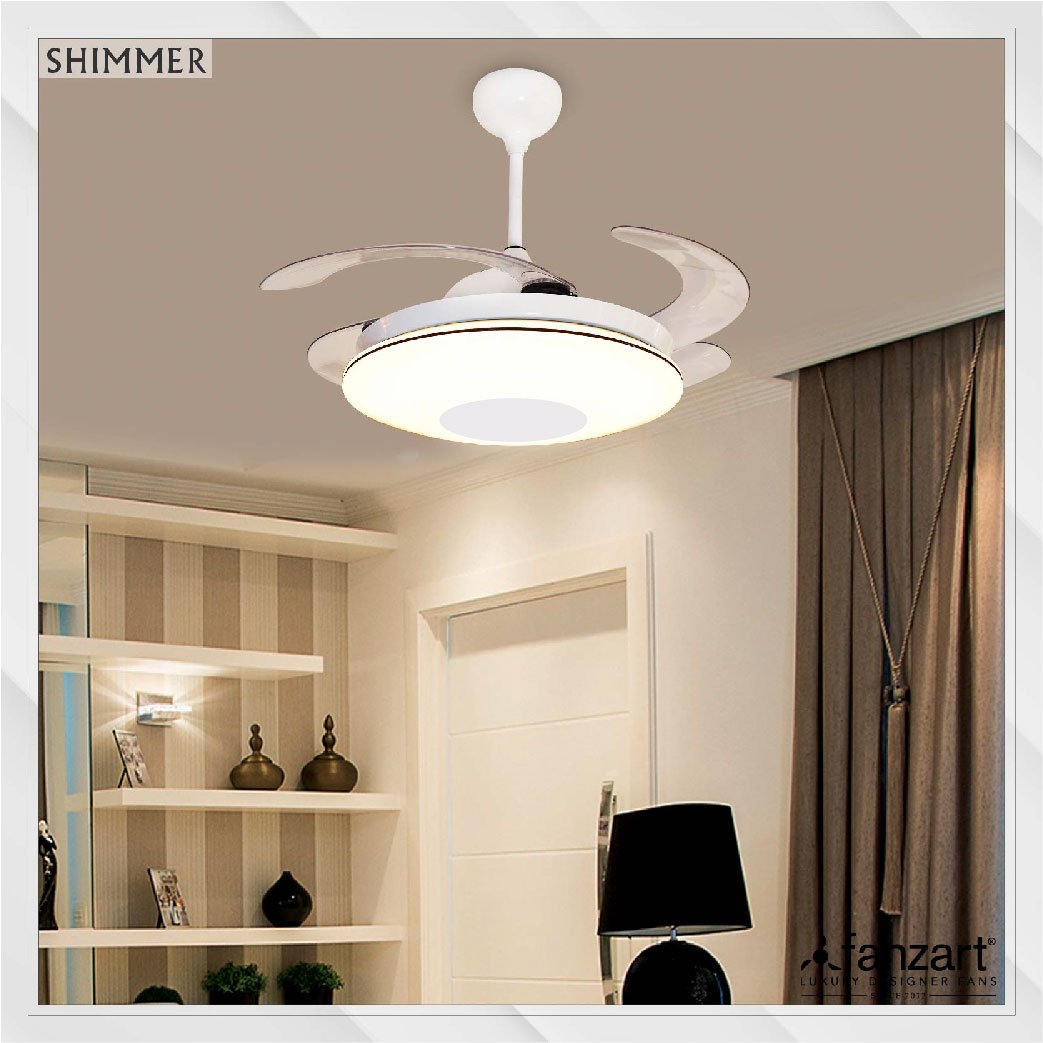 Connect your device wirelessly to the 44-inch Fanzart 'Shimmer' to groove along with the powerful 10W Bluetooth-enabled speaker fan motor, which comes with retractable blades that glitter its multi-color LED light dome!
The addition of glitter makes it look like the starry night sky, making it perfect to sleep under. Your mood can set the ambience of your room by switching between the different light options, warm light, cool light, and daylight. The Remote-controlled Shimmer fan runs on Brushless DC (BLDC) motor and is equipped with Fanzart's Summer Winter feature enabling the blades to rotate bi-directionally, controlled by a remote.
7. Jumble White Designer Fan
8. 'Wave' Designer Ceiling White Fan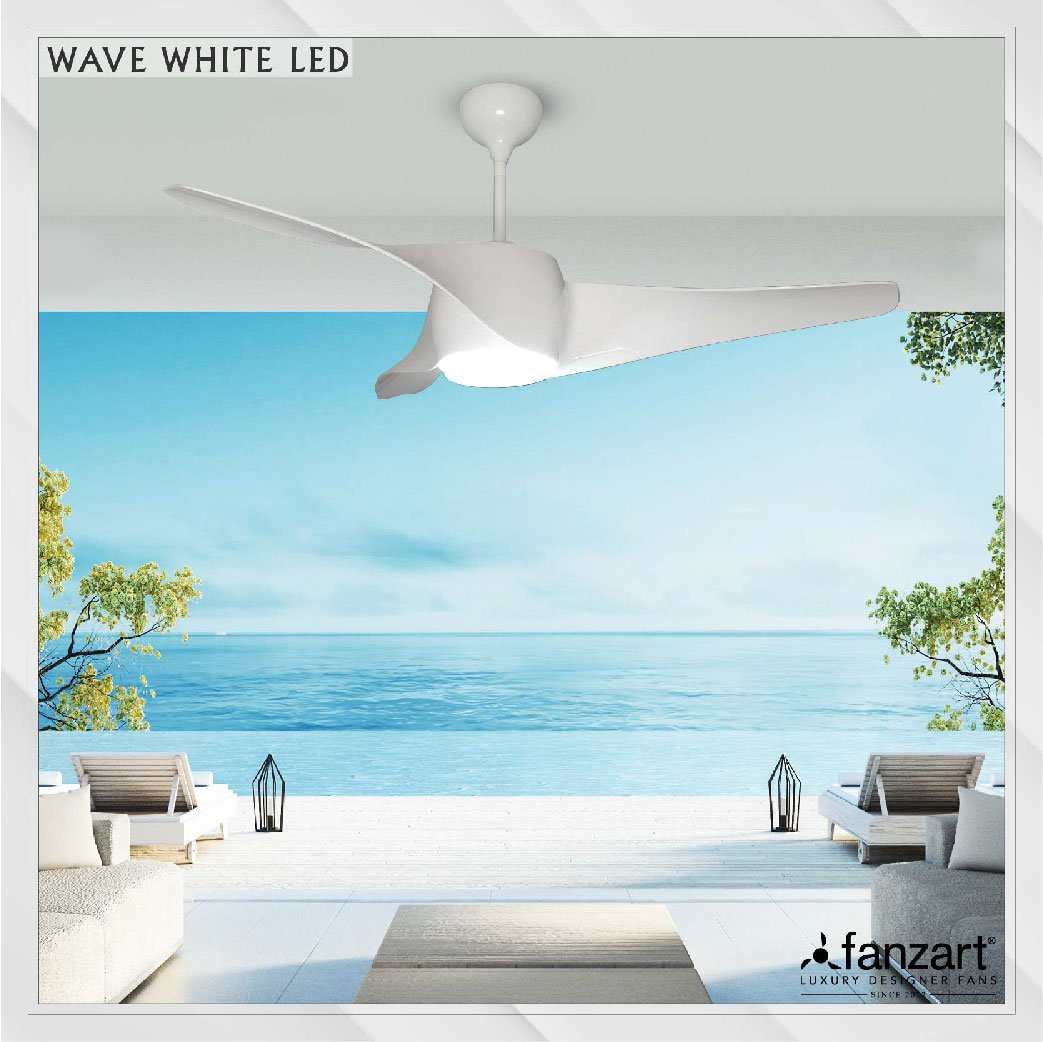 The addition of a multicolor LED light kit in the Fanzart Wave White, makes this designer fan efficient and valuable addition to your space. Uniquely crafted blades, with flamboyance and flair, create a fan that adds an element of splendor to your room.
Wave white is designed with 3 high-quality ABS blades to give this glossy white luxury fan a mirror-like finish. The Wave white LED soothes your mind and the powerful breeze cools your body and lights up your space with its multicolor LED light kit.
The 50-inch designer fan runs on a Brushless DC (BLDC) motor making it energy efficient, absorbing 70% less power.
The Wave white LED also is an all-weather fan due to its unique Summer Winter feature that can be operated using a remote. It is an ultra-modern fan, that helps accentuate a modern home's interior appeal.
9. 'Wind-O' Glossy White Customizable Fan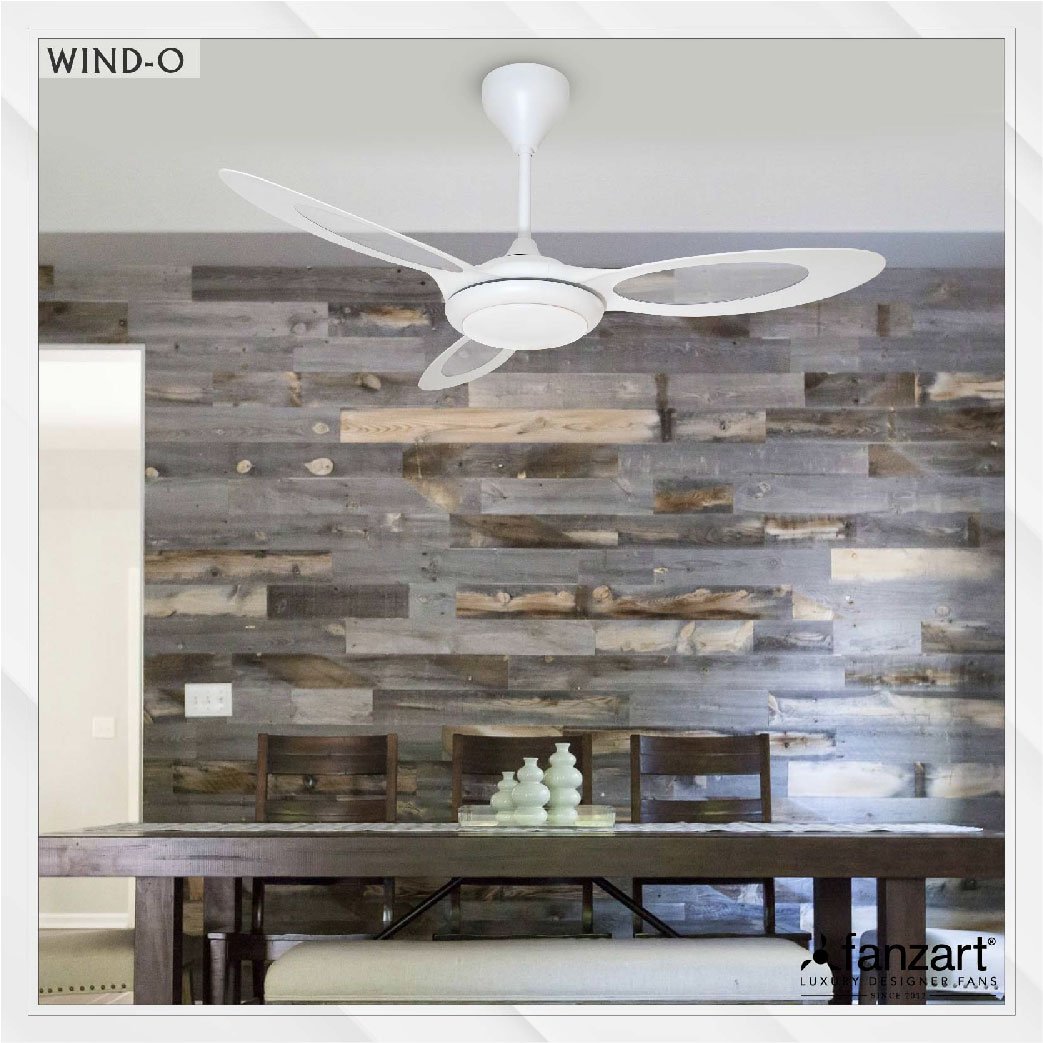 10. 'Avalon' White Customizable Designer Fan
Customizable Luxury Designer Fans in India (Limited Offering Only):
Download Brochure of 130+ Designer Ceiling Fans