To mark celebrating our Ten Year Anniversary, we have curated a very special list of our top 10 high speed designer fans in India by Fanzart fans for you! #10YearsofLuxury
Our innovative designer fan solutions factor in how downrods can play a role in high-ceiling homes or interior spaces, or the role of blade pitch and blade sizes for that optimal luxurious airflow experience.  It's a careful balance of art, and science to deliver a 'Whisper-Quiet' breeze experience. Connect with our team for a one-time free consultation, here.
1) Twinz:
Adding a tropical touch to the interiors of homes of Indian cricketers to Bollywood celebrities, these twin beauties have enhanced double-height & wall-mounted ceilings with grace and stellar functionality.
Join that elite league with Twinz. Having a wide reach of airflow at 18360 of combined CFM, the hand-crafted natural wood blades and eye-catching mounting arrangement make it an enviable addition to your home. The remote control in the fan allows you to access the fan from any corner of the house while adding an unparalleled aesthetic to your designer home.
2) Grandmaster:
India's first customizable HVLS fan(High Volume Low Speed) can add a grand look to the ceiling while delivering an exceptional airflow experience of 14250 CFM. Offered in a stunning limited edition matte finish that's sleek, sophisticated & eye-arresting., Used at The Marriott Hotel
As part of our Refined Industrial Collection, the Grandmaster comes in two stunning finishes, making commercial space more regal whilst giving a dramatic yet approachable designer touch to the ceiling.
The Grand Masterworks on the unique HVLS principle- displacing large amounts of air while operating at lower rotational speeds, keeping your space well ventilated and breezy. Designed with seven aluminium blades & offered at a 60″, 70″ and 80″ sweep–enabling you to choose the right Grand Master to suit any commercial space where it would be installed.
3) Avalon:
With a CFM of 14000, the 66 inch 6 bladed Avalon is enchanting elegance combined with functionality. It comes equipped with a Multicoloured LED light kit and possesses the unique 'Whisper-Quiet' technology coupled with BLDC motors. With its superior design based on the story of a legendary island, this piece of ceiling art is sure to make you smile every time you look up at it.
4) Huddle: At only 9.5″off the ceiling in a rare Antique brass colour, The Huddle looks like it's hugging your ceiling! Unique looking, contemporary design, The Huddle is one of FANZART's first hugger fans. Its beautiful Rosewood finish blades deliver a refreshing 'Whisper-Quiet' breeze experience of CFM 9890.
5) Spinner: Sleek, sophisticated functional art for a Scandinavian look for your low-height ceilings. The Spinner is one of FANZART's first hugger fans. Offered in a limited-edition Sand Gold or Matte-White while delivering an airflow of 9865 CFM, the Spinner is a truly remarkable work of art. Remote Controlled, Whisper Quiet technology, Summer Winter Mode, The Spinner is an ideal choice for your low height ceilings.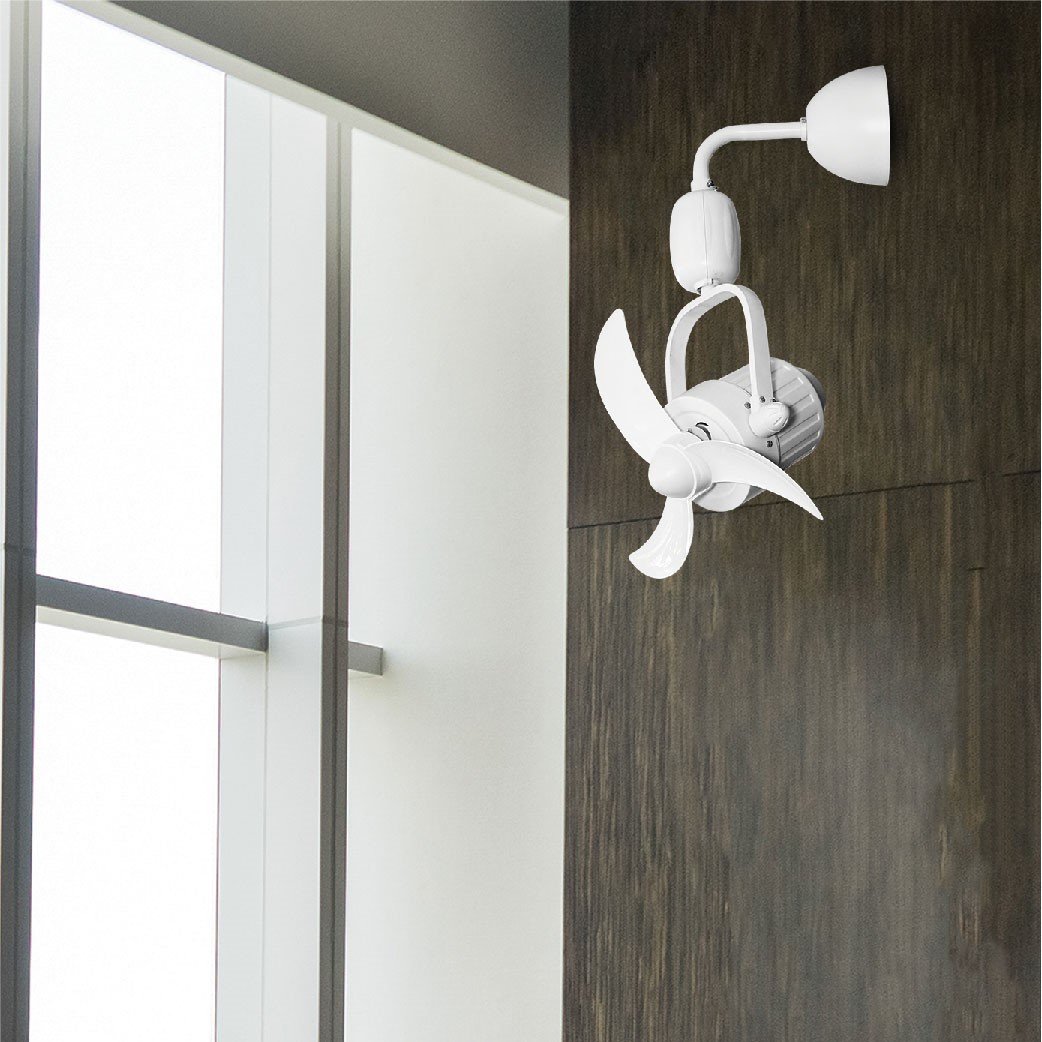 6) Edge (Wall-mounted): Have you ever been stuck in a stuffy place with no breeze? Bring home The Edge and you will never experience that uncomfortable feeling in those doggy vacuum spaces. This beautiful 15inch remote-controlled DC motor fan can oscillate 90 degrees, covering a wider area while displacing 9221 CFM of air. The Fanzart Edge only consumes around 20 – 35 watts of power, making it energy efficient. Perfect for puja rooms, balconies or any tight corner of the house.
7) Crystal:
Yes, you can use it as a fan, chandelier, or both. The Fanzart Crystal is crafted using extraordinary detailing. Resplendent is a word this crystal fan might remind you of. The sparkling crystals arranged on a stunning LED-mounted dome are sure to remind one of the ornate lamps of medieval times.
The choice of its blades is yours, the 6 exposed transparent acrylic blades give a breeze experience of 8475 CFM. The Crystal can also be customised with transparent acrylic retractable blades with a WOW factor when you turn on the fan. Having some of the most remarkable features any fan has to offer, such as Whisper Quiet Technology, Summer Winter, Multi-coloured LED Lights and a dedicated remote control.
8) Venetian:
What's the most dazzling display in your living room? With 14 foldable acrylic blades around a stunning LED mounted crystal dome, this 52-inch designer fan runs on a BLDC motor, making it energy efficient while yet providing an airflow of 8475 CFM. When turned on, The Fanzart Venetian opens out like a flower that blooms out from a bud. All of this is controlled by a remote-making your life at home a beautiful experience, every day!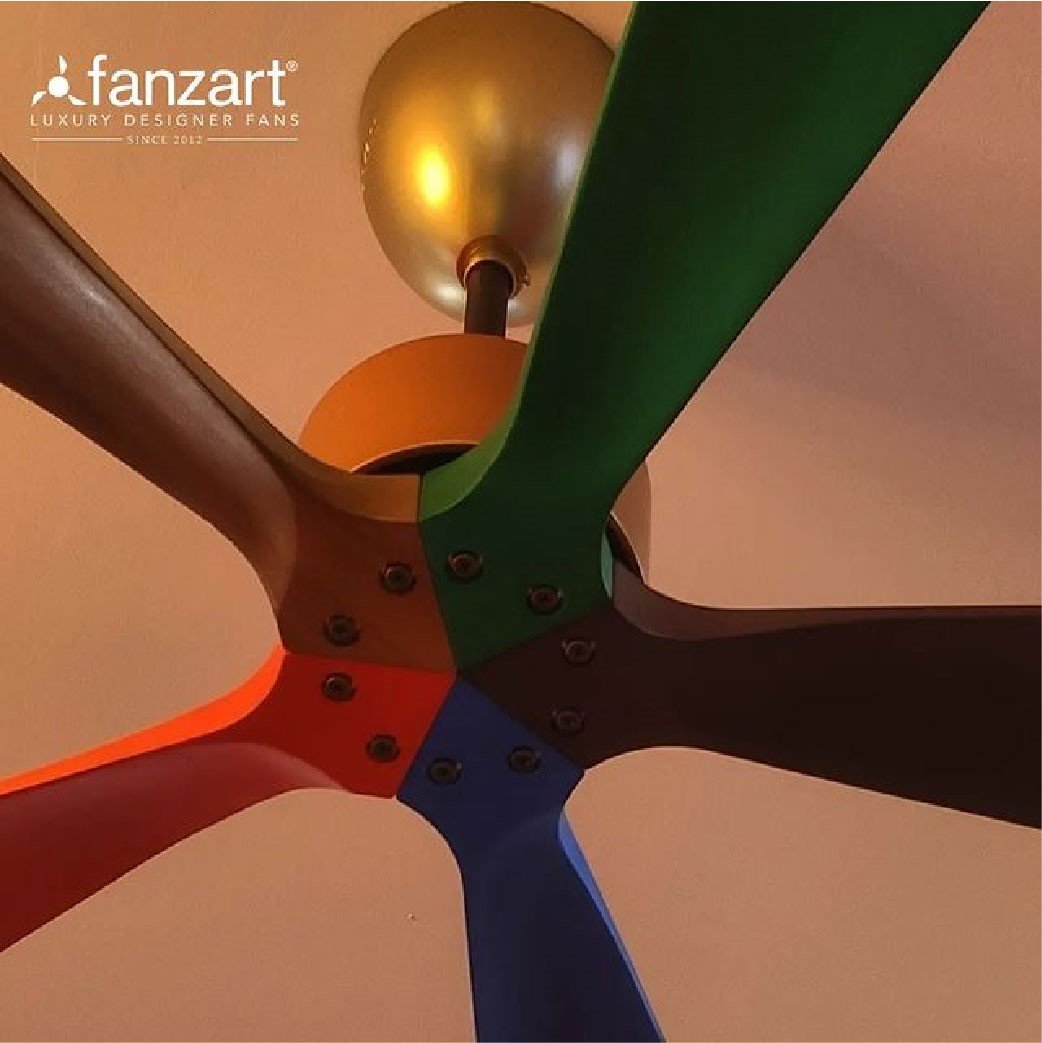 9) Maple: Maple, a contemporary wooden ceiling fan from Fanzart makes a bold statement at the same time represents simplicity and sophistication. The Maple has 5 designer wooden blades, adding style to your home. The 60-inch designer ceiling fan which gives an extraordinary breeze of 8475 CFM is crafted to perfection with five natural wood blades, the Maple is most certainly powerful, and yet, retains the beauty of a freshly blossomed maple leaf. The epitome of elegance, its blades can be polished to match any lacquer finish colour, enabling it to double up as a gorgeous piece of home décor suitable for living rooms and bedrooms. The designer ceiling fan is equipped with a BLDC motor hence making it energy efficient. The fan is remote controlled and also has Fanzart's Summer Winter feature. The perfect choice to add value to your home
10) Windflower:
Designed with 5D Vortex ABS Blades that deliver 8010 CFM(airflow). The Flagship Fanzart – The 'Windflower is also offered in 3 limited edition colours-Rosegold, Champagne Gold & Coffee Brown!
Equipped with an ambient lighting system that seamlessly blends into its unique design-illuminating your home while giving you an beautiful breeze experience. This 22 Inch Brushless DC (BLDC) motor fan also has our Summer Winter feature, which can help you keep food warm if installed as a dining table fan or help couples adjust the room temperature to keep it cosy for both partners at night if it's installed as a ceiling fan for the bedroom
Which of our luxury designer fans did you like most? Download our product brochure here to find the specs of all of our 130+ designer fans in India!
Schedule a free one-time consultation with our team here, we would be happy to help clarify any doubts you have.