To remove the inconvenient challenge of ventilating a room with that perfect breeze or airflow while having adequate illumination from a light fixture, Fanzart fans introduced luxury designer ceiling fans with lights!
Find over 60+ exclusive limited-edition collections of designer fans with lights in India. Each of these is uniquely designed to add functionality while aesthetically transforming the ceiling of your luxury home interior projects.
Our remote controlled ceiling fans are equipped with LED light kits that can be switched between white light, warm light and daylight modes at the touch of a button.
So, how do ceiling fans with underlights differ from regular ceiling fans? Here are 3 solid reasons how having a fan with lights can help your life at home:
Ambience Control: Ceiling fans that come with lights make it easy to illuminate a dining room, luxury living space, study areas, large balconies or even kitchen areas! Many of our ceiling fans come with multicolored lighting options, whose light modes can be controlled easily with a dedicated fanzart fan remote.
We even offer dimmable fans with lights, which allow for the light intensity in the fan to be adjusted as per your mood.
Decoration: Creating a focal point wherever you place them in the room, our ceiling fans with lights come in various blade sizes (from 15 inches to 80 inches), shapes (regular straight out, curved or even flower-shaped), finishes (wooden handcrafted, matte finish) and colours! (personalize some limited edition models with over 3600 colours)
Space Optimization: For smaller spaces or certain areas where electrical access points are limited, super functional underlight fans with remotes can be useful to install. Our ceiling fans with lights deliver a 'Whisper Quiet' breeze while effectively brightening the room so that you can save space with this additional functionality while designing your luxury home.
As the pioneering luxury designer fan brand in India since 2012, we've had fantastic feedback from 90+ store partners on how our fans with lights have transformed luxury home design, based on the experiences of many happy Fanzart fan owners.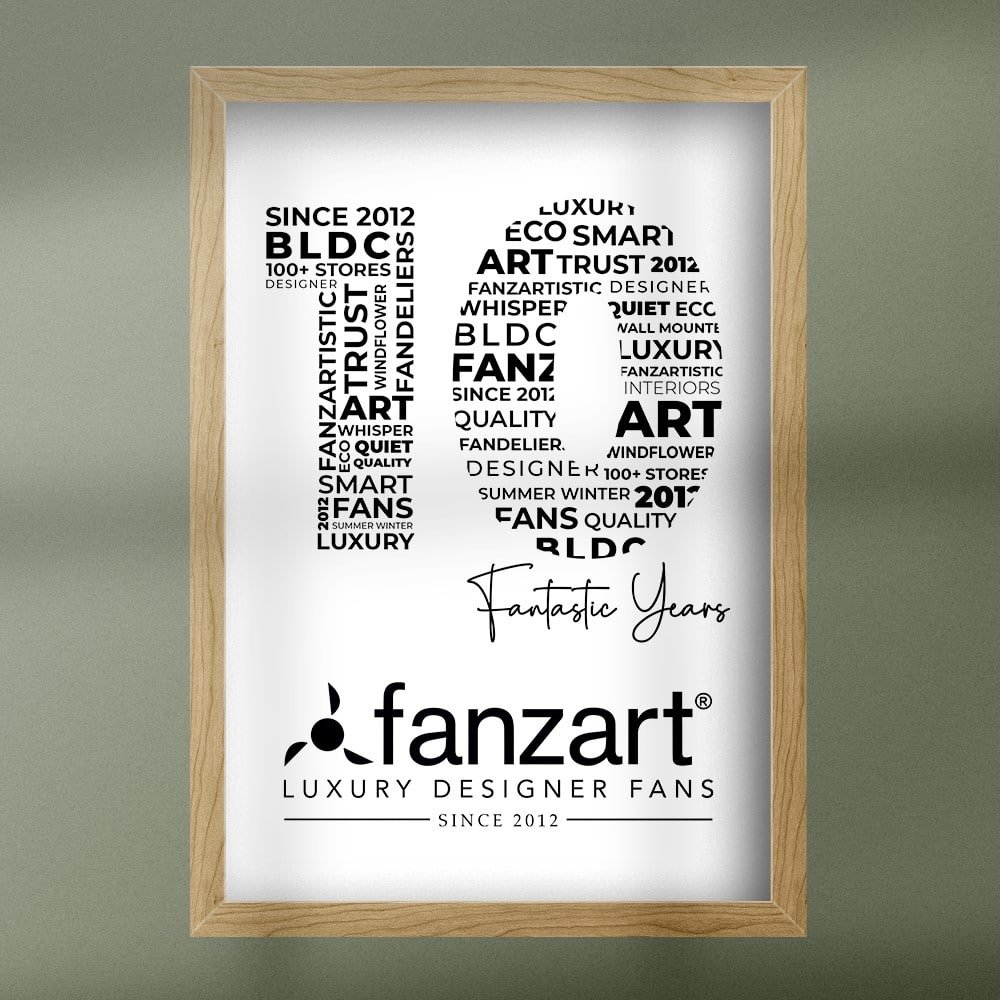 To celebrate our 10th anniversary, we've curated a special our top 10 luxury designer fans with lights:
1) Tiffany:
Equipped with a five-pack penta LED light kit, our 52" 'Tiffany is a classical fan with 5 natural wooden blades, a vintage-appeal pull chain, our unique summer-winter feature and optional remote integration with the fan.
2.Crystal
A beautifully designed 56″ high-end ceiling fan that comes in two limited-edition blade types-Retractable & straight blade out versions. Install this symbol of exuberance to mesmerize the guests who would visit your living room. Our Fandelier's 4 ABS transparent retractable or straight blades move in silence and make an excellent choice if you're looking for a remote-controlled fan with lights.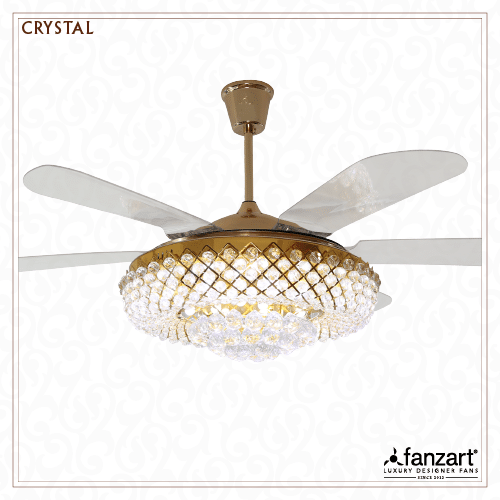 3) Windflower:
Our Award-winning WINDFLOWER: With patented 5D Vortex blades, ambient to bright lighting options, the Windflower sets the benchmark for luxury designer fans.
With colour options of Coffee, Champagne Gold and Rose Gold, the Windflower adds an element of royalty to any kind of home interior.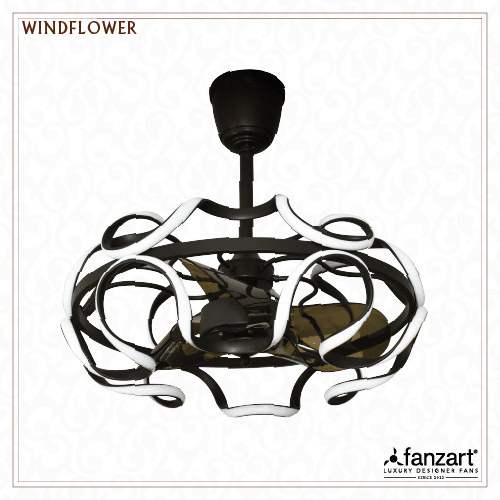 4) Monalisa:
With LED lights in-built a mediaeval-style dome design the fanzart 'Monalisa' defines luxury for your home with its unique, antique brass finish
Ideal for your Living Room, Bedroom and other spaces- The Monalisa delivers luxurious breeze of almost 8000 CFM while being 'Whisper Quiet' (Under 40 decibels)
This 44 inch designer ceiling fan will leave you awestruck and is an enviable value addition to your designer spaces.
Resonating light from its inbuilt 36W Multicolored LED Light the artistic 'Monalisa' illuminates your space just as your smile–brighter than ever before.
An eye-catching masterpiece indeed, the Fanzart Monalisa is truly a testimony for excellence. Schedule a consultation call with us to learn more about this beautiful masterpiece.
5) Dew Drops:
A dazzling 44-inch designer ceiling fan that's intricately designed with crystals looking like Dew Drops! This crystal chandelier fan makes for a fantastic choice for your living room design. Equipped with 4 high-quality ABS transparent blades, our remote-controlled fan adds a marvellous piece of art to your ceiling!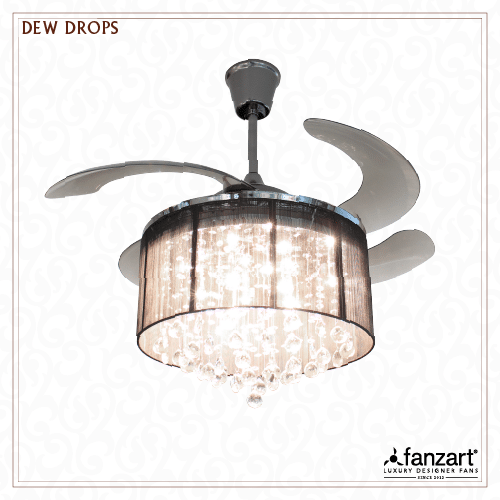 6)Venetian: If ceiling fans with lights could start a conversation, one would find themselves rambling on about the Venetian's 14 ABS transparent collapsable blades, its eco-friendly Brushless DC (BLDC) motor, 38W LED lights & Summer-Winter feature.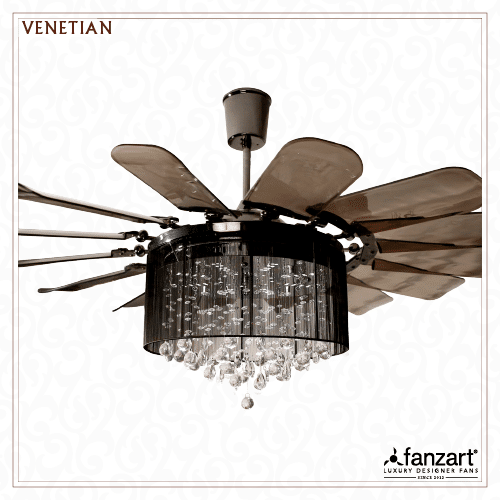 7) Jumble :
This 11-inch radius fan speeds up to 400 RPM, displacing 8,000 CFM of air (something a 5-foot fan normally does). The Fanzart Jumble is a beautiful multi-colour LED light fan, equipped with Brushless DC (BLDC) motor making it an energy-efficient designer ceiling fan too! Along with our awesome Summer Winter feature, this 'Vortex' ceiling fan design comes with a remote.
8)Shimmer
You can connect your device to this Bluetooth enabled ceiling fan and groove to your favourite jam! Our 44-inch Fanzart Shimmer is equipped with retractable blades, that functions as a multicoloured LED light fan dome that glitters!
The addition of glitter makes it look like the night sky, making it the perfect fan to sleep under. Your mood can set the ambience of your room by switching the fanlight between the different light options, warm light, cool light and daylight.
10) Venus
This customizable Our Venus designer ceiling fan comes in four limited editions: Coffee Brown & White.
If you're looking for fans with lights to design a kid's room, our 36 inches 'Baby Venus' is that perfect remote-controlled designer fan that would help your child switch between warm light, cool light / white light or daylight easily.
With over 130 Fanzart uniquely designed fan models, you can imagine it to be hard for us to curate this list of top 10 luxury ceiling fans with lights in India.
Exclusive designer fan models like Fanzart Divine (Coffee Brown or Matte White colours), Fanzart (Windflower Champagne Gold or Rosegold colour) were also considered extensively for this list.

Which Fanzart fan feature did you like the most? We would love to hear what you think!
Schedule a consultation call with our fan team here.
Add art to your ceiling, now.
ALL of our aforementioned designs are available as 3D models on the Google Sketchup warehouse. Download them from here and add them to your renders.