To all our Fanz. We hope you are doing well right now. While we are indoors–have you thought about where you spend most of your time? Is it your bedroom, your work-from-home area, or any other part of the house? Now, ask yourself if you are getting an optimal breeze experience in this particular spot. You deserve beautiful aesthetics in this interior space if you happen to spend most of your time here, don't you think?
We understand that as an architect or interior designer, your priority is to ensure that your clients get a luxurious breeze experience. Even as a person looking for the best designer fans in Bangalore or wherever you reside in India, some of the areas of your home where a wall-mounted fan can deliver better than a ceiling fan can possibly be:
Dining Table Areas-Spreading out breeze evenly across your dining table area.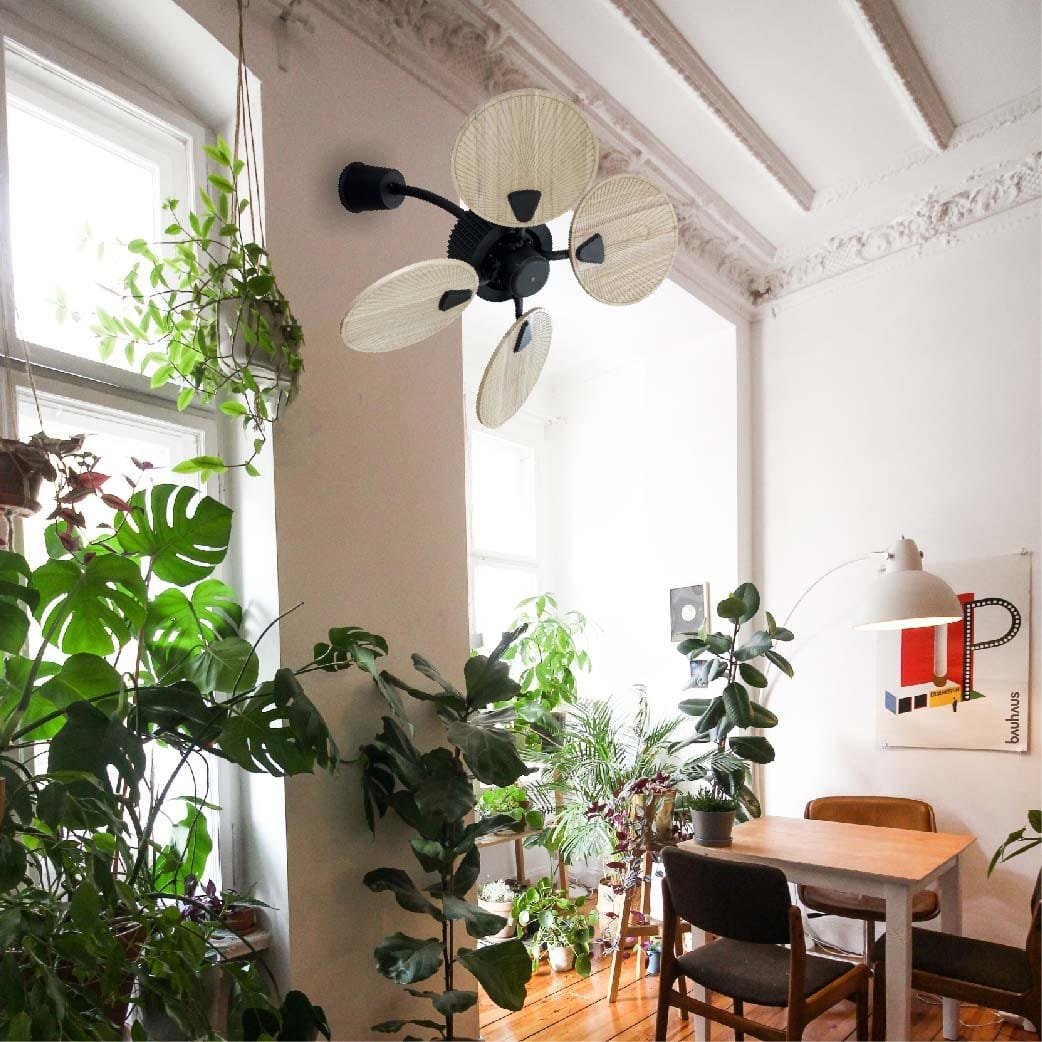 Double-Height Ceilings-Large Home Spaces where the ceiling height is above 20
feet, like in Villas and Bungalows.
Dodgy Spaces-Those no-breeze corners of your house like balconies and kitchens.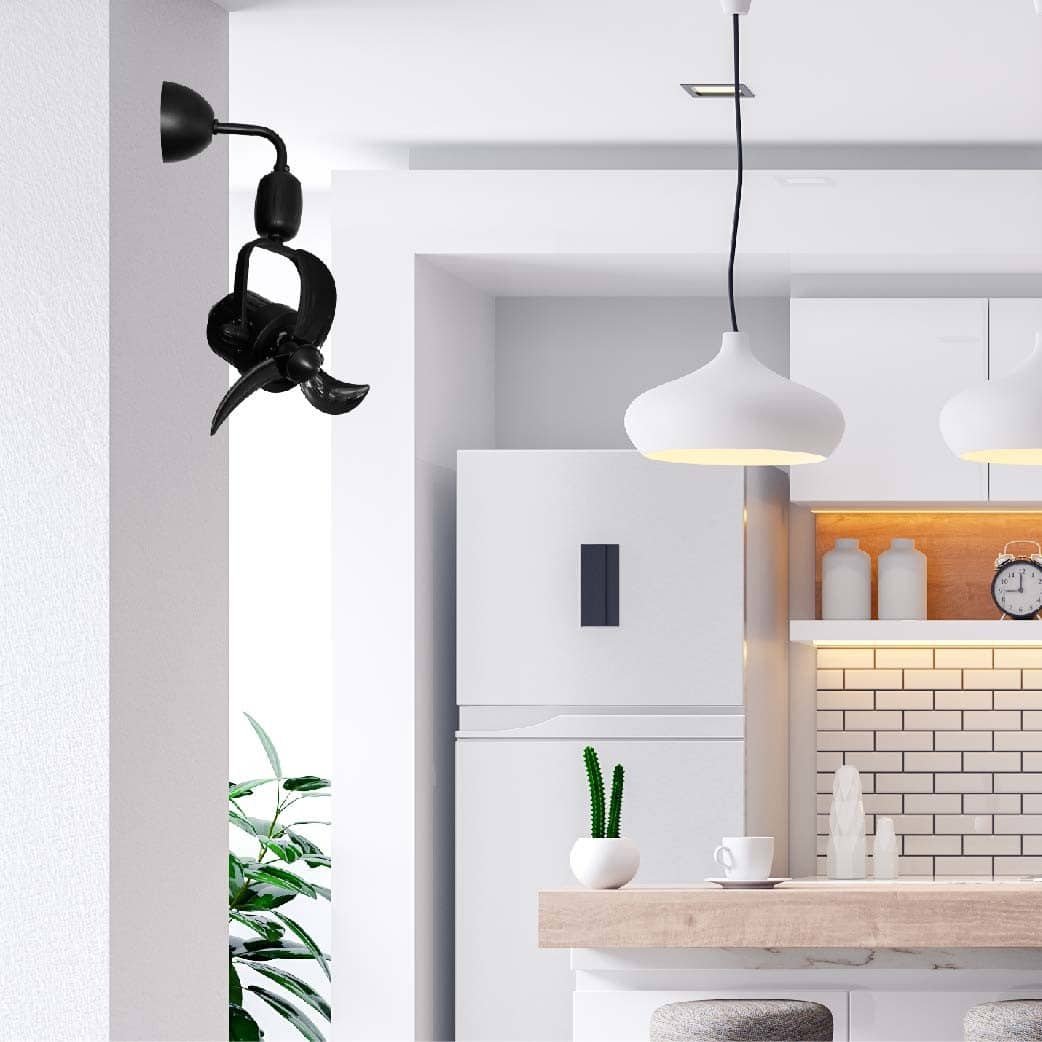 Hospitality-Our wall-mounted fans have been used in Restaurants, Rooftops, and Hotel Lobbies across India.
A particular challenge that can come up is, for example, in the case of double-height ceilings (above 20 feet). In these cases, the long down-rods can end up affecting portions of the house through which they pass. One also runs the risk of losing out on optimal air-displacement effectiveness and elegant style. (Who wants to look at metal pipes connecting fan motor housings when you can have a Fanzart there instead?)
This is where our "Wall-Mounted" Collection steps in to save the day-transforming your preferred area of the house into an attractive, sophisticated space you would love to be around. A wall-mounted fan makes for a highly functional and yet uniquely tasteful addition to your home. The best part is that you can smartly and strategically place these designer fans for that perfect cross-ventilation breeze experience. (We can help you with that)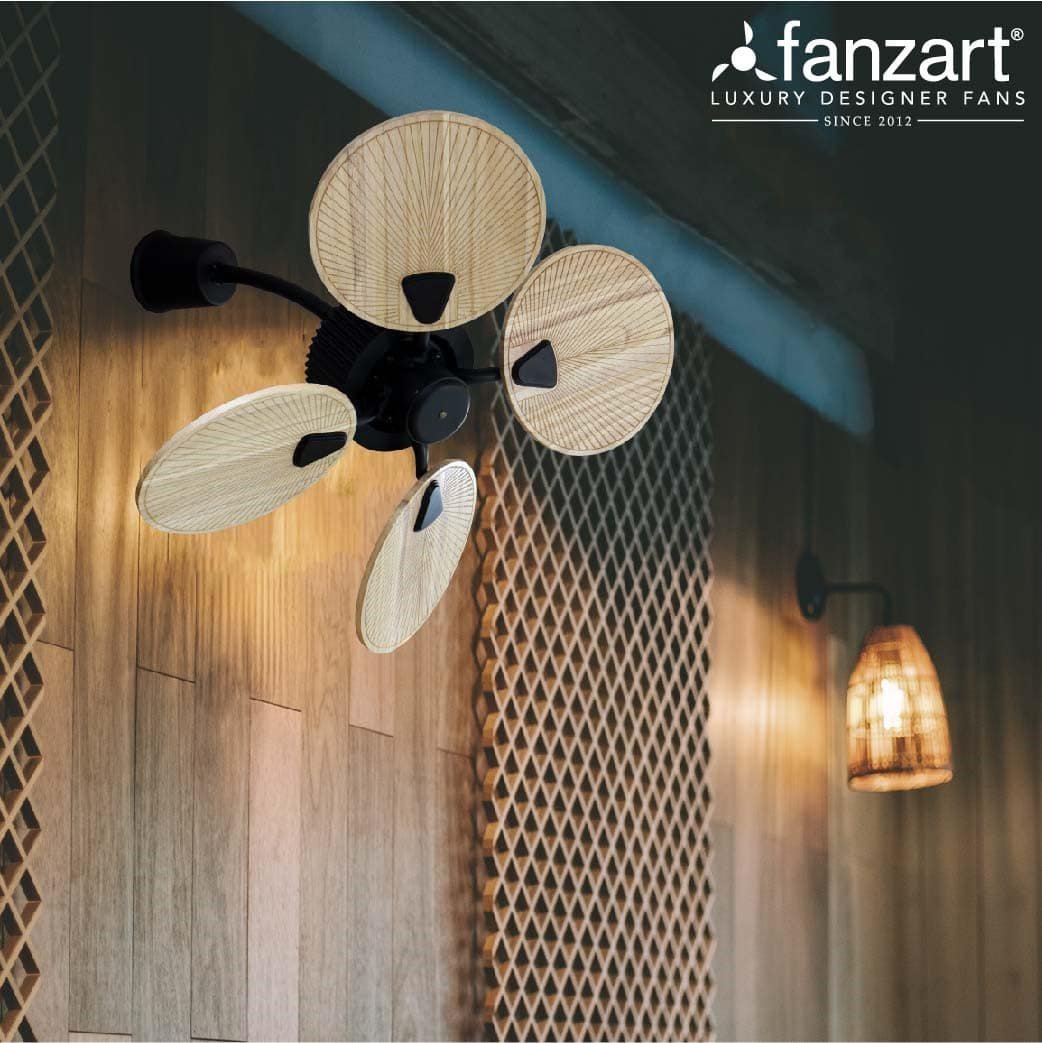 Think about the unused space in your room whether in a corner or in case you would be having a room with a double-height ceiling. Wall-mounted fans help in circulating the air in all directions from an elevated place. Compared to a ceiling fan, they typically do not take up much space . Even if you have a statement piece in your pathway or if your floor space is massive, wall-mounted fans come in handy when compared to ceiling fans. The main reason-they can direct airflow in any desired direction.
Let's dive in a bit deeper into some of our flagship designer wall-mounted fan models, crafted to delight you and upgrade your home living lifestyle.
Fans for Smaller Rooms, Kitchens or Balconies
ATOM:
Match your room's furniture with Fanzart's 34-inch ATOM, designed with 4 specially crafted wooden blades that can be polished to match the finish of your furniture. The black housing gives the designer ceiling fan a chic look and adds elegance to your home. The best part is that these fans are super-quiet, so you can work in peace or have a night of uninterrupted sleep.
EDGE:
Need a fan that's really small? The 15inch remote-controlled DC motor fan can oscillate 90 degrees to cover a wider area. It displaces 9221 CFM of air and consumes around 20 – 35 watts of power only making it super energy efficient If you need a sharp and good-looking sense of relief for dodgy spaces, the EDGE is the perfect choice. The matte black finish is perfect to compliment a neutral backdrop and is sure to turn heads towards your walls!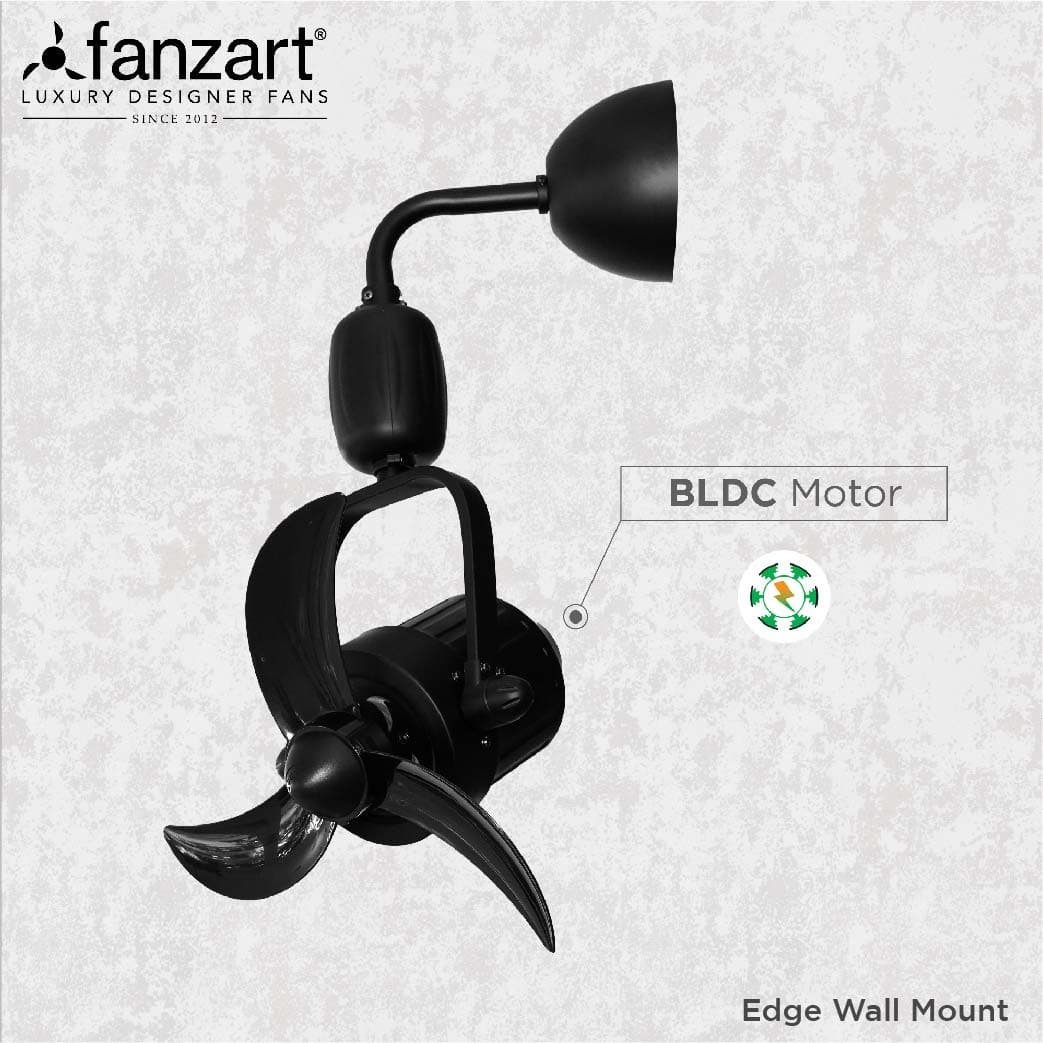 In addition, this designer fan can also be set to the desired vertical tilt angle to direct airflow towards the area of your choice. Equipped with our novel Summer Winter feature, the EDGE black(Also in matte-finish White)White makes the perfect choice for your modern home or office space.
Wall-Mounted Fans for Drawing Rooms, Villa Bedrooms, Restaurants, and Hotels
TWINZ:
It's not just about smaller spaces with a Fanzart! The Twinz wall mount fan has a wider reach of ventilation, with its trendy grooved blade design and eye-catching mounting arrangement. The 52-inch designer ceiling fan cannot be easily forgotten once you lay your eyes on it. The Twinz is best suited for spaces where you cannot go with a ceiling fan, or balconies. You can even use a combination of Twinz for larger areas as well to keep your entire space ventilated.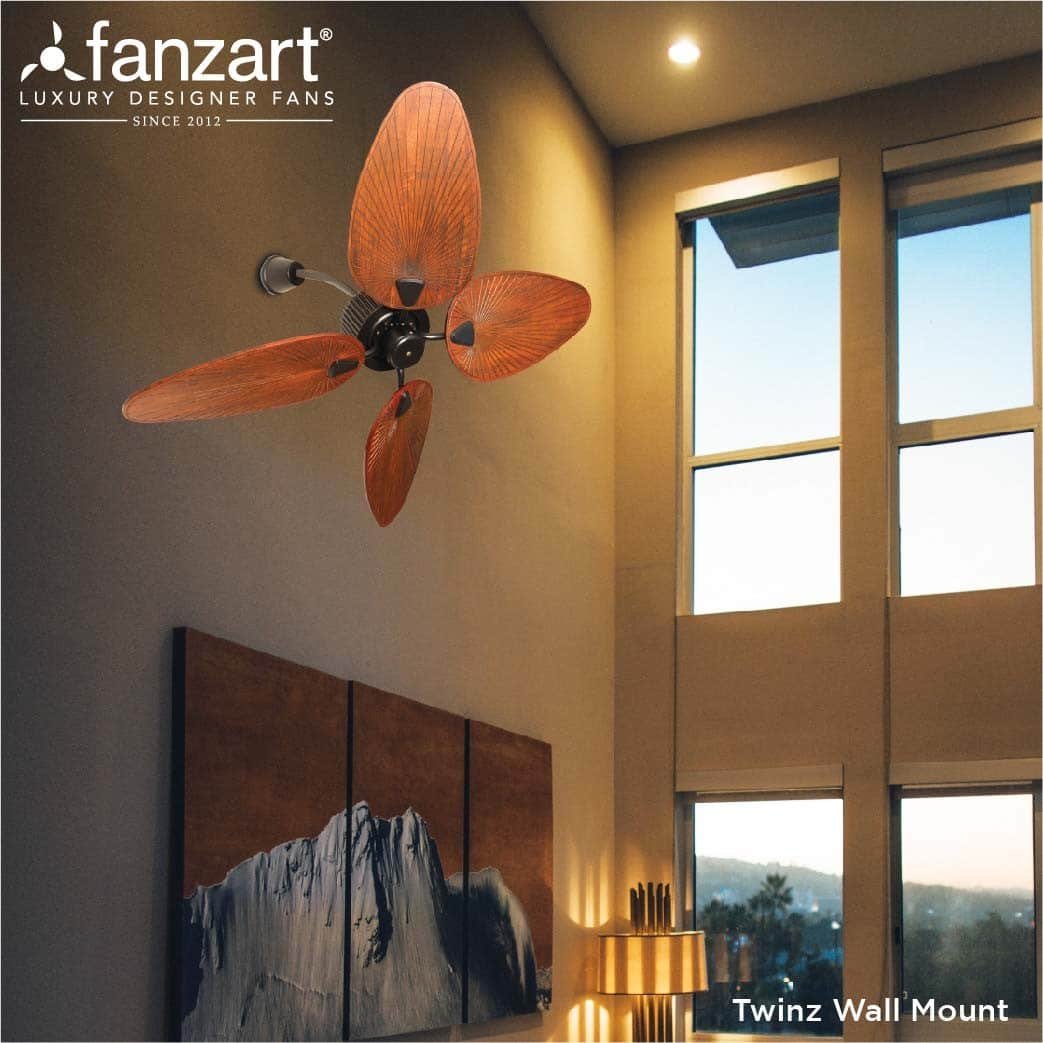 If you are wondering how these luxury designer fans would work for your home, go a bit deeper with a free consultation call with our designer fan experts.
Watch a snippet video explainer from our co-founder, Tarun Lala