Decorate Bathrooms & Kitchens with Ultra-Silent Premium Exhaust Fans Fanzart
Adding art, glamour & fantastic functionality in bathrooms, kitchens & utility rooms of luxury homes or commercial spaces just got effortless with our new range of designer exhaust fans by Fanzart fans.
These state-of-the-art premium ventilation fans are a groundbreaking addition to a category of designer fans enabling luxury Indian interior designers or architects the option to include a touch of opulence in a space that traditionally lacked innovation. 
These 12 new-age premium ventilation fans are setting trends by giving an exceptional, ultra-silent breeze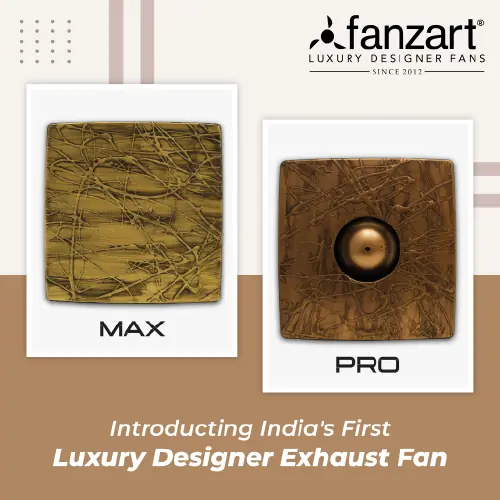 How do Luxury Exhaust Fans work for your Home?
Our premium exhaust fans work by drawing air out of the space and venting it to the outside, which helps to improve the air quality and reduce the risk of mold and other moisture-related problems in the space. 
You can get rid of excess heat, moisture, and other pollutants from indoor spaces in style with these Ultra-Silent fans (Under 35 decibel) feature that allow the air to be ventilated without any noise that can disturb one's conversations or thoughts.
Where can I Install a premium exhaust fan? 
Our designer exhaust fans can be installed in kitchens, bathrooms, utility rooms, and other areas to help remove excess heat, moisture, and other pollutants from indoor spaces where ventilation is lacking. 
Another application can be in commercial and industrial settings. Ask our team of experts for more details or specific use cases. 
What are the specifications of the premium exhaust fans by Fanzart? 
Offered in the PRO and the MAX version, our limited edition ventilation fans come in various looks to suit any interior mood!
Whether you pick a Textured finish or Metallic lustrous appeal on Stainless Steel and ABS blades, our 6-inch premium exhaust fans have 7 blades that deliver a "Whisper-Quiet" breeze of 320 m3/h. 
The Fanzart Premium Exhaust Fans have a stylish finish that gives a metallic, lustrous appearance that adds a decorative touch to the fan. 
Our 4 shades of Brushed finish exhaust fans are : 
Brush Gold

Brush Rose Gold

Brush Gun Metal
Our 4 shades of Brushed finish exhaust fans are :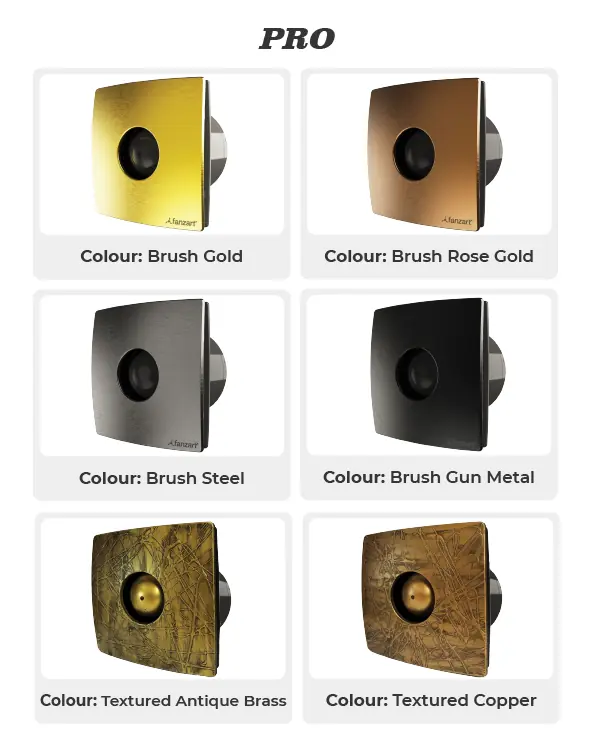 If you'd like to know more about our limited edition models with customization options, schedule a call with our fan experts.