Over the past 11 years, fanzart luxury designer fans (since 2012) has become synonymous with bringing innovative fan design solutions to market for the Indian architects & luxury interior decorator community.
Since designer fans was initially a pathbreaking category, we often faced difficulty in putting into context how our designer fans could be best utilized in interior projects.
One solution that we engineered helped to resolve a key issue often faced during ideation & architectural visualization of an interior design or interior redecorating project on Sketchup-the world's most popular 3D modelling & design application.
SketchUp is an application that truly makes 3D modeling easy for everyone, with a simple to learn yet robust toolset that empowers you to create beautiful, functional 3D design models. You can take your SketchUp projects with you, wherever you go.
Fanzart Fans has over 100+ 3D designer fan models to download for architecture, design, construction, or fun.
Here's our curated list of our top 11 designer fans you can download as 3D models for Sketch up. You can download them for free for your next luxurious interior design project, to help you decorate spaces with a fresh breath of "Whisper-Quiet" air.
Top 11 Designer Fans You Can Download As 3D Models For Sketch Up
1.    Venetian
Excellent craftsmanship and unparalleled technological advancement- The Fanzart Venetian is a 52 inch BLDC motor fan that is energy efficient as well as breath-taking with 14 foldable acrylic blades around a stunning LED mounted crystal dome giving you excellent breeze as well as brightening your space.
Solving the age-old problem of airflow above a dining table? Our Fandelier Ceiling Fan for dining areas 'The Venetian' is the industry benchmark for a fan that's much more than a chandelier!
Easy to use with a remote control- The Fanzart Venetian is the perfect addition to your living room or dining space.
2.    Windflower
Our 'Fandelier' collection- has elegant, stylish light fixtures artistically embedded on a fan.
Designed with brilliant Multicolour LED Lights equipped with mood lighting and ambient lighting system which seamlessly blends into its unique design-illuminating your home while giving you an unparalleled breeze experience with Patented 5D Vortex ABS Blades that deliver up to 8010 CFM of airflow.
Our flagship Fanzart – The 'Windflower' is also offered in a limited edition Rose Gold Finish! Equipped with an energy efficient BLDC motor fan which consumes 70% lesser power and Summer Winter Feature- the Windflower is an all weather Fanzart.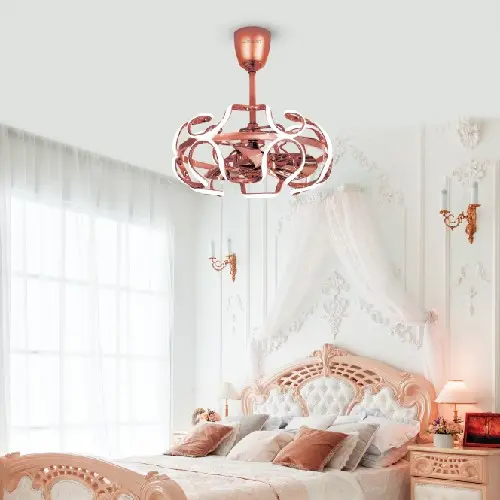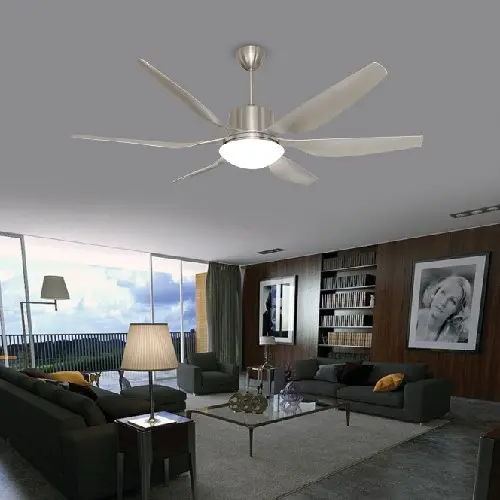 3.    Avalon
Exuding elegance and style, the Fanzart Avalon is equipped with a multicolor LED light kit, the remote enables you to switch between warm light, cool light / white light, and daylight.
The Avalon runs on a BLDC motor making it energy efficient, absorbing 70% less power.
The 66 inch magnificent beauty spreads its wings over a large area and has a CFM of 14125, highest in the residential segment keeping you refreshed.
Be it Summer or winter, the unique Summer Winter feature keeps you cool and cozy at all times. The Avalon white is ethereal and is best suited for Large Spaces.
4.    Grandmaster
The Fanzart Grandmaster in a Matte Black finish displaces an airflow of 12390 CFM with grace.
With the option to customize the 7 blades, dome and the mounting rod to any colour, the Fanzart Grandmaster is available in sweep sizes of 60" 70" and 80"
Some of the other fanzartastic features: Summer-Winter Feature [All-weather fan], eco friendly BLDC motors with whisper Quiet technology all remote Controlled
5.    Shimmer
Which is your favourite song on repeat? How about listening to it in a 3D effect with the Bluetooth-Enabled Fanzart 'Shimmer' – that gives you a beautiful starry effect with the 36W light from a multi-colour LED light dome.
This Fanzart is also equipped with the Summer Winter Feature and Whisper Quiet Technology. Connect your device to the fan and groove to the rhythm of your favourite tracks.
The 44 inch Shimmer comes with retractable blades, delivering you a beautiful luxurious breeze experience, everytime.
The addition of glitter makes it look like the night sky, making it perfect to sleep under. Your mood can set the ambience of your room by switching between the different light options, warm light, cool light and daylight
6.    Monalisa
The Fanzart 'Monalisa' defines luxury for your home with its unique, antique brass finish. Ideal for your Living Room, Bedroom and other spaces-
The Monalisa delivers luxurious breeze of almost 7945 CFM while being 'Whisper Quiet' . This 44 inch designer ceiling fan will leave you awestruck and is an enviable value addition to your designer spaces.
Resonating light from it's inbuilt 36W Multicolored LED Light the artistic 'Monalisa' illuminates your space just as your smile brighter than ever before
An eye-catching masterpiece indeed The Fanzart Monalisa is truly a testimony for excellence.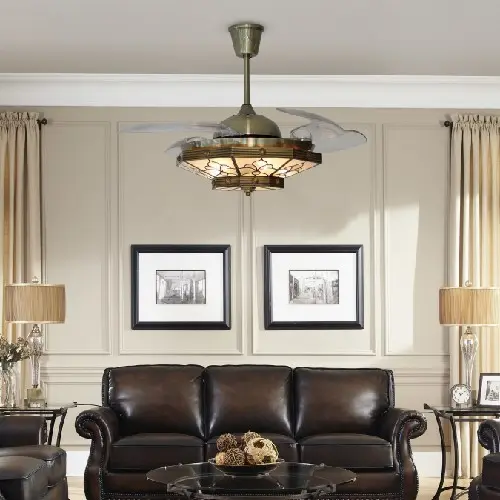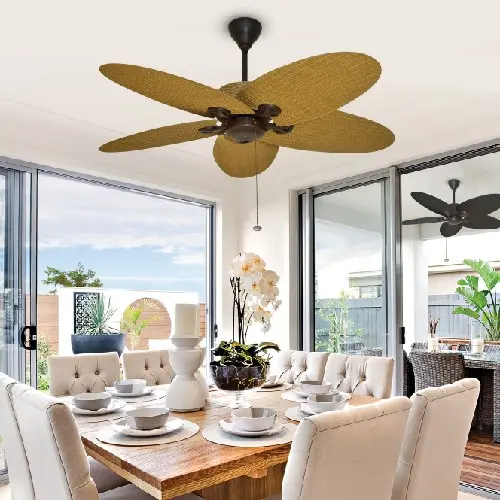 7.    Caribbean
Isn't it elegant? This semi-outdoor Fanzart is sure to make the indoors come to life.
Also available as Caribbean Dark Rattan with sublime, natural rattan texture on it's 5 ABS blades, our Fanzart 'Caribbean' also possesses a pull-chain that adds vintage charm with fanzartistic features like Summer Winter Mode, Remote Controlled Options all while staying whisper quiet.
Perfect for semi-outdoor ceiling areas, terraces and balconies.
8.    Basil
Blades that are crafted like the leaves of the basil plant, with a pull-chain to adjust the speed of this handcrafted, 5-bladed wooden ceiling fan 'Basil' while adding a tropical touch of contemporary functional art to your ceiling.
Optional Remote-Control Integration offered for ease of use while you can use the Fanzart Basil as an all-weather fan with the Fanzart Summer Winter Feature.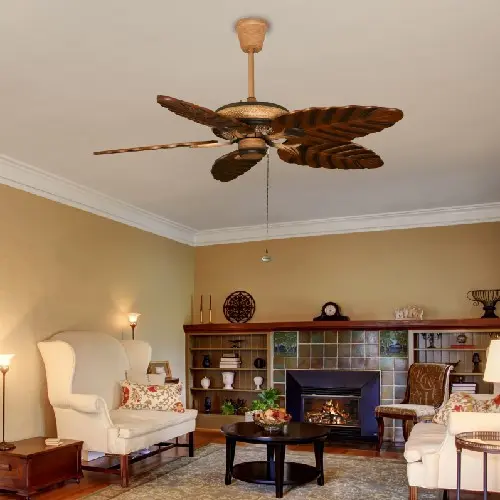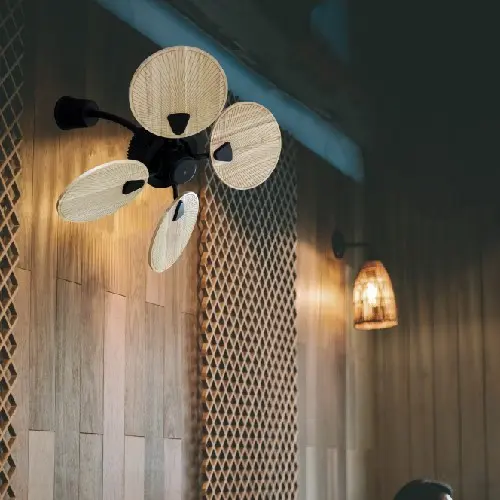 9.    Atom
A fan, on a wall? Yes please. Best suited if you have a smaller area, balcony or a double-height ceiling. The Fanzart Atom helps you direct the breeze to a particular area in a larger space too!
With less than 38dB you get to experience pin-drop silence while you enjoy refreshingly exceptional breeze of 9535 CFM!
The 34 inch Atom is perfect for wall mounted and double-height ceiling use cases, designed with 4️ specially crafted wooden blades that can be polished to match any lacquer finish. Complementing your furniture to the fan just became easier.
10.    Edge
Can't have a 52 inch Fanzart installed in your room? Designing for a small space comes with certain constraints. We have an exclusive option for you!
The Fanzart Edge with a 15 inch sweep DC motor fan can oscillate 90 degrees thus covering a wider area and displaces 9221 CFM of air and consumes around 20 – 35 watts of power only making it energy efficient.
The Fanzart can also be set to the desired vertical tilt angle to direct airflow towards the area of your choice. Equipped with our novel Summer Winter feature, the EDGE white makes the perfect choice for your modern home or office.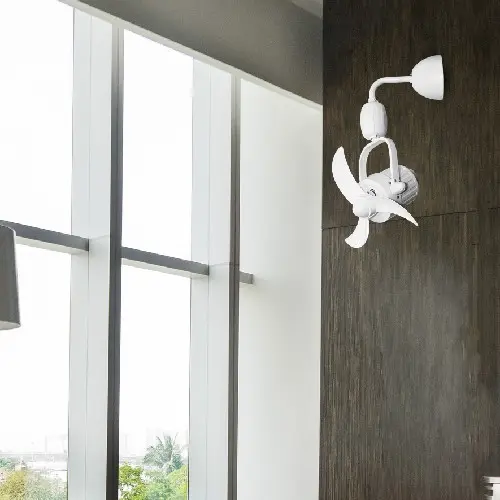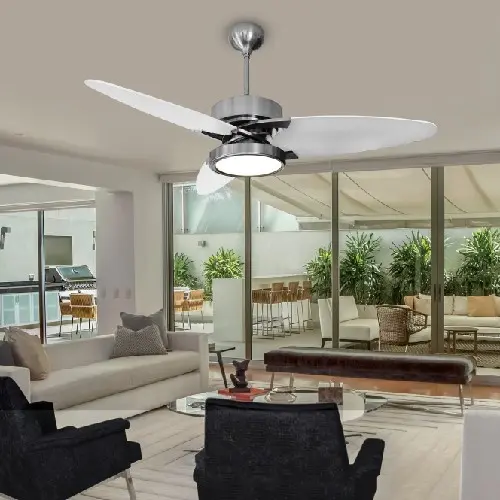 11.    Propellor
A beautiful antique brass finish to help you mock up your interior project with  burgundy finished special treated plywood blades!