Benefit of using  'Orbit' Tower Designer Fan
A designer tower fan adds an aesthetic appeal while being functionally useful to ventilate any home or office with its compact size and quiet operation.
 Built with Japanese Technology at its core, our all new fanzart 'Orbit' is packed with features that will make staying cool a breeze.
 Some of the standout features include advanced digital temperature sensors, 4 wind modes, and low power consumption. Plus, it comes with a built-in dust filter, so you get clean and dust-free air.
What is a Luxury Designer Tower Fan?
 A luxury designer tower fan is a tall, narrow pedestal designer fan which is designed to move air around a large space. The main purpose of a tower fan is to quickly and evenly circulate air throughout a room. The sleek, slender design allows them to compliment the decor of any room and blend in with the rest of the surroundings.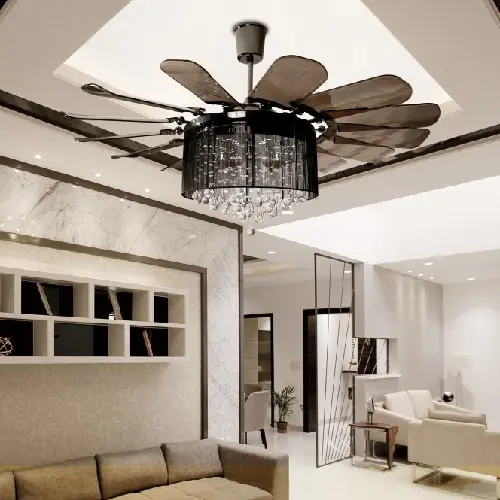 Benefit of using 'Orbit' Tower Designer Fan
 The right fan does not make your AC work harder, to keep you cooler.
 Keep the cool air in and the heat out with the AC Mate Mode that works together with your air conditioner to keep you cool, comfortable and relaxed, all with a touch of a button of the Infrared remote control or with the SMART Touch LED Control Panel of our Luxury Tower Fan – the 'Orbit'.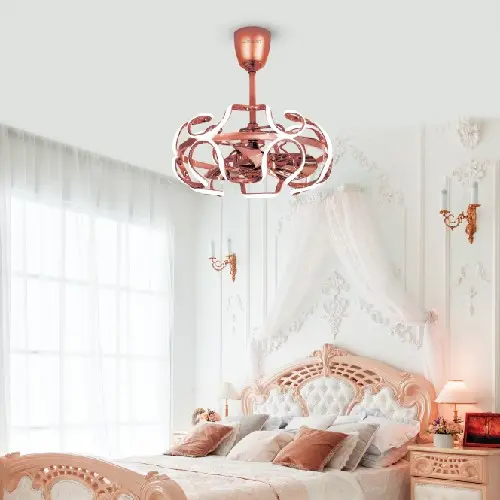 The First Bladeless Fanzart has 90° Automatic Oscillation and 360° Manual Rotation with an air speed of 7 m3/h to help circulate the cool breeze evenly across your space. The Black ABS Body is built using engineered plastic that is known for its strength, durability, and heat resistance.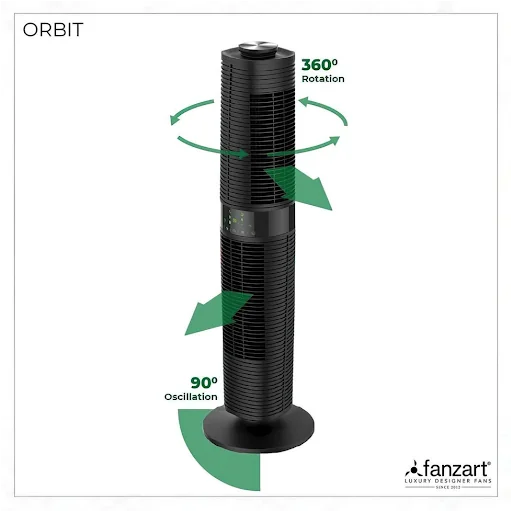 Tower fans have become increasingly popular in recent years as a stylish and effective way to cool down a room. Fanzart Designer Tower fans come with a variety of great benefits, especially during the summer.
 One of the main advantages of tower fans is that they come with Advanced Temperature Sensors which helps cool a room much more quickly and evenly. Since they are tall and oscillate, they can quickly move air around an entire space, helping to create a nice comfortable breeze.
When it comes to noise levels, tower fans are also much quieter than traditional fans, making them ideal if you want to keep your space quiet. 
The low noise levels allow you to enjoy your summer days without being disrupted by loud fan noise. The Fanzart Orbit is also incredibly energy-efficient. Unlike traditional fans, which can draw a lot of electricity, this smart fanzart requires much less power to operate and is much more cost-effective to run.
Want to turn off fanzart say after after 4 hours of sleeping? Don't worry, the Orbit has an inbuilt sleep timer of 1-2-4-8 hours. So you can choose the most suitable timer as per you to have the most
Tower Fans of the future
At fanzart fans, we are always striving to provide our customers with the latest and greatest technology when it comes to tower fans. That's why we have developed the Fanzart Orbit – the tower fan of the future!
The Orbit is a state-of-the-art tower fan that has been engineered with the latest technology to keep you cool during those hot summer days. Some of its most impressive features include an advanced digital temperature sensor, 4 separate wind modes, and an inbuilt dust filter for a healthier and cooler air.
Plus, the Orbit comes with a low power consumption of 45W, so you can keep your space cool this summer without having to worry about high electricity bills. 
That's what makes the Fanzart Orbit the perfect choice for anyone looking for a high-tech way to stay cool this summer!