10 Most Innovative Luxury Retractable Blade Designer Fans with Lights:
When it comes to decorating a room with a designer fan with lights, space constraints in certain areas can often play a hindrance, limiting how an Interior designer or an architect can approach the project. 
That's precisely where designer fans with Retractable Blades can help, as the fan blades can be retracted back into the fan body or motor with a touch of a button. (Yes, our designer fans come with exclusive remotes!) 
Here are 10 of our most innovative luxury retractable blade designer fans with lights, curated by our fanzart fans team to help you add art to your ceiling while accentuating your breeze experience with fantastic features!
10 Most Innovative Luxury Retractable Blade Designer Fans with Lights:
1.Odyssey
With transparent hidden retractable blades in a 55W multi-coloured LED dome, The Fanzart 'Odyssey' is an ode to brilliant design that's super-functional with a luxurious breeze experience.
Suitable for your Bar, Bedroom, Dining Area, Drawing Room, Dressing Room, Living or TV Room, the 36-inch Odyssey is a designer ceiling fan that runs on a Brushless DC (BLDC) Motor-helping you save the planet by being energy efficient 
Further, the fan can move in anti-clockwise and clockwise directions, helping keep the room cool or hot with our special 'Summer-Winter' feature.
2.Venus
Designed with beauty and simplicity, the Fanzart Venus at first glance leaves an impression of a chandelier. The designer fan takes you by surprise as this beauty spreads its wings out to give you an exceptional breeze. 
The 42-inch designer ceiling fan has transparent retractable fine acrylic blades resting on top of its dome. The simple yet elegant dome features a multi-colour LED light kit to illuminate your space. 
The remote control enables you to turn on the fan as well as switch between warm light, cool light/white light or daylight. The 4 blades not only are deceptive but also give you extraordinary breeze and are indeed mesmerizing.
For those who love to add a personal touch, the Venus coffee gives you customizable domes. Yes, you can make sure that the fan is made just for you with the addition of your artwork, pictures, and collages to make this wonder truly yours. Venus coffee is a valuable addition to your living room, bedroom, dining room, art room, and kids' play area.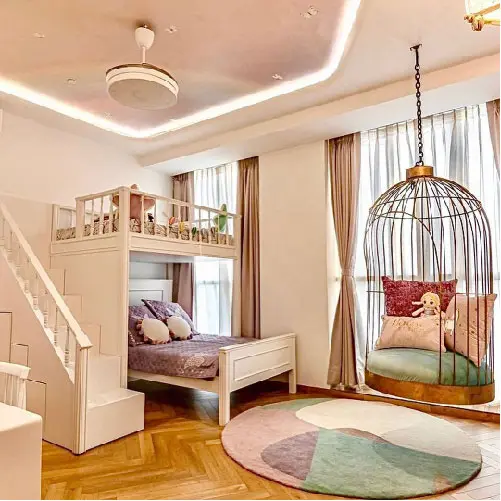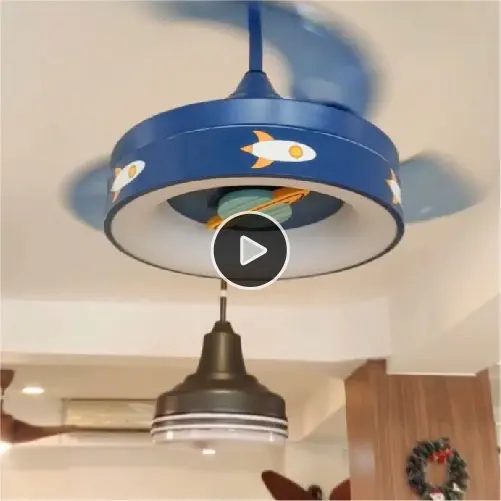 3.Baby Saturn
Aesthetically attractive while being super-cute–our latest Fanzart 'Baby Saturn' helps you uniquely design for a kids' room –helping the little ones sleep peacefully under a 'Whisper-Quiet' breeze (Under 40 decibels) 
While its 4 Transparent Fine Acrylic Retractable Blades deliver a luxurious 6280 CFM, the Baby Saturn is BIG on fanzartastic features like:
1) Summer Winter (all weather fan)
2) Multicolored Ambient Lighting 
3) Easy to use Remote Control 
The Baby Saturn is offered in a limited edition beautiful Matte-textured Pink & Blue edition.
4.Nebula
This interstellar fan gives an impression of a spacecraft with retractable blades that open up as the body descends. The 36-inch designer ceiling fan runs on a Brushless DC (BLDC) Motor which makes the Fanzart Nebula energy efficient, absorbing 70% lesser power. 
Multiple Multicolour LED kit adds to the gorgeous design. This fan truly shows a breakthrough in the way it camouflages the retractable blades. 
The Nebula is trendy and vibrant and can best suit your dining room, foyer, and drawing room. The addition of the Summer Winter feature that can be operated using a remote makes the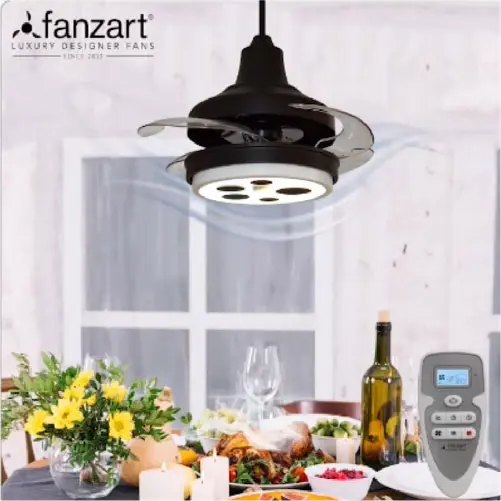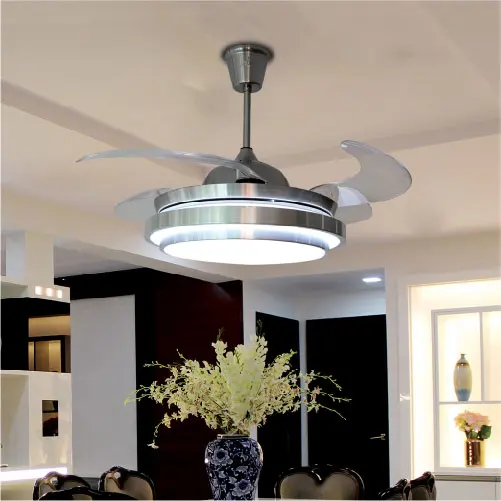 5.Saturn
Uniquely scythe-shaped retractable blades cause a ring-like illusion when in full swing. The design of the dome gives an impression of celestial rings, the 4 transparent acrylic blades sit on top of the dome and when you press a button on its remote, spreads out and can sweep you away. 
The 44-inch designer ceiling fan is equipped with a multi-colour LED light kit giving you the choice to switch between warm light, cool light and daylight making it the perfect choice for any time of the day. Saturn is best suited for contemporary, modern or retro style and can adorn the ceilings of your dining room, bar, walk-in wardrobes or dressing rooms.
6.Shimmer
Listen to the sound of the musical Bluetooth-Enabled Fanzart 'Shimmer' -that gives you a beautiful starry effect with its light from a multi-colour LED light dome.
Connect your device to the fan and groove to the rhythm of your favourite tracks. 
The 44-inch Shimmer comes with retractable blades, delivering you a beautiful luxurious breeze experience, every time. 
The addition of glitter makes it look like the night sky, making it perfect to sleep under. Your mood can set the ambience of your room by switching between the different light options, warm light, cool light and daylight
7.Monalisa
To the Romantics of the late 19th century, MonaLisa became the face that launched a thousand fantasies. The painting was sent to the Louvre in 1815. 
Suitors bearing flowers, poems and impassioned notes climbed the grand staircase of the Louvre to gaze into her 'limpid and burning eyes.' Essayists agonized over Leonardo's femme fatale — was she Madonna or whore? Mother or temptress?"
Renaissance polymath Leonardo Da Vinci is considered the archetypal masterpiece of the Italian Renaissance and has time immemorial amazed its onlookers, much like our fanzart 'Monalisa' 
Add a touch of artistic excellence to your designer homes with our 44 inch Monalisa!
8.Rolex
The Rolex delivers an exceptional breeze while majestically illuminating your space.
Along with its dedicated Remote Control and retractable scythe-shaped acrylic blades (which revolve around an LED-mounted crystal dome)–Rolex Gold can indeed be the centre piece that can completely transform the look and feel of your living room or dining room.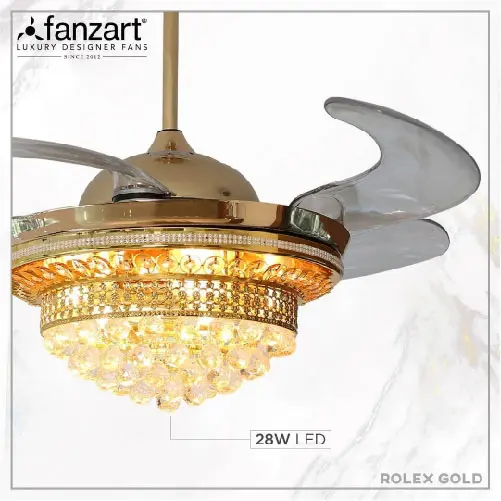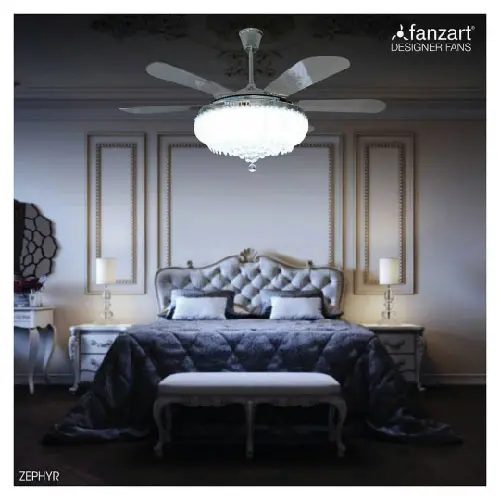 9.Zephyr
The gracefulness and elegance of the Fanzart Zephyr justify its christening. A breathtaking grid of crystals bespangles the multi-coloured LED-mounted dome, while the Transparent acrylic fine blades add to its ethereal beauty. 
The petals on the Zephyr are arranged to look like an inverted lotus from below. A truly remarkable Fanzart. 
The retractable transparent acrylic blades with a sweep of 44 inch suits either large or small spaces, the Zephyr can give your living room or dining room a whole different look and feel effortless. You can regulate the outstanding breeze of the Zephyr with a remote too.
10.Crystal
Give your living room the luxurious look it deserves with the Fanzart Crystal Fandelier. Resplendent is a word this crystal fan might remind you of. The sparkling crystals arranged on a stunning LED-mounted dome are sure to remind one of the ornate lamps of medieval times.
Offered with retractable or non-retractable blades, the Crystal comes with a 48 Watt LED Light to give you that dazzling crystal display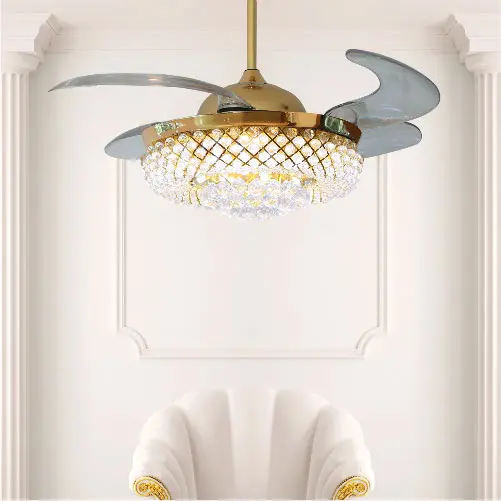 Which one of these luxury designer fans with retractable blades & lights resonated with your home design project the most?
Talk to our team to learn more about how you can customize your 'Whisper Quiet breeze experience.