Meet the latest innovation from Fanzart: The CLIFF. This ultra-stylish, compact 16-inch fan is the perfect solution for spaces like your walk-in wardrobe, kitchens, bathrooms, that demand both aesthetics and performance. 
Not only does the CLIFF transform any limited space into a cool oasis of comfort, it also lends an extraordinary touch of luxury to your interiors. 
With a chic design that beautifully marries function and style, the CLIFF can be either wall-mounted or ceiling-mounted, allowing you the flexibility to enhance your spaces as per your needs.  
It's not just about the looks, though; this fan is also about incredible functionality. The fanzart CLIFF delivers an extraordinary whisper quiet breeze experience that you can control with the touch of a button, thanks to the included remote control. 
The CLIFF boasts high-end specifications that reflect its premium build and performance. The fan fits seamlessly into any interior design scheme and is available in two classy finishes:  Matte Black and Matte White. It features ABS blades in Spica Oak Wooden finish or in a Matte White finish, adding to its sleek and modern look. 
This luxury fan comes in a compact design, which offers a  sweep of 406 mm / 16 inches, and is equipped with a high-performance 106 x 15 mm DC motor. It stands at a height of 610 mm when wall-mounted and 640 mm when ceiling-mounted, offering optimal air circulation for your compact spaces.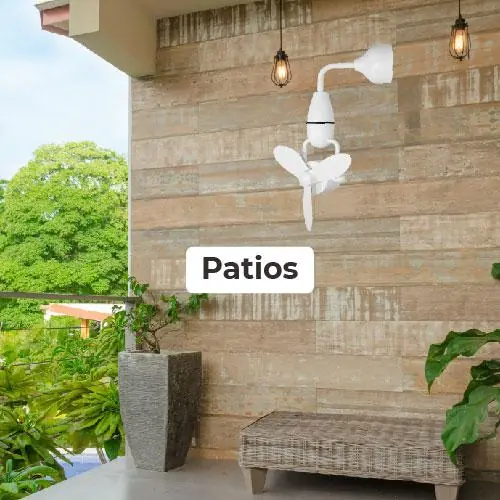 The fan extends 265 mm from the wall and offers 90° degrees of oscillation, ensuring an even and effective airflow throughout the room. With an impressive airflow of 9668 CFM, The CLIFF can provide excellent ventilation in even the most compact spaces. 
The crowning glory of the CLIFF, though, is the inclusion of a BLDC motor. This Brushless Direct Current motor offers several advantages over conventional motors. It's more energy-efficient, quieter, and has a longer lifespan. Plus, its smooth operation ensures a better quality of airflow.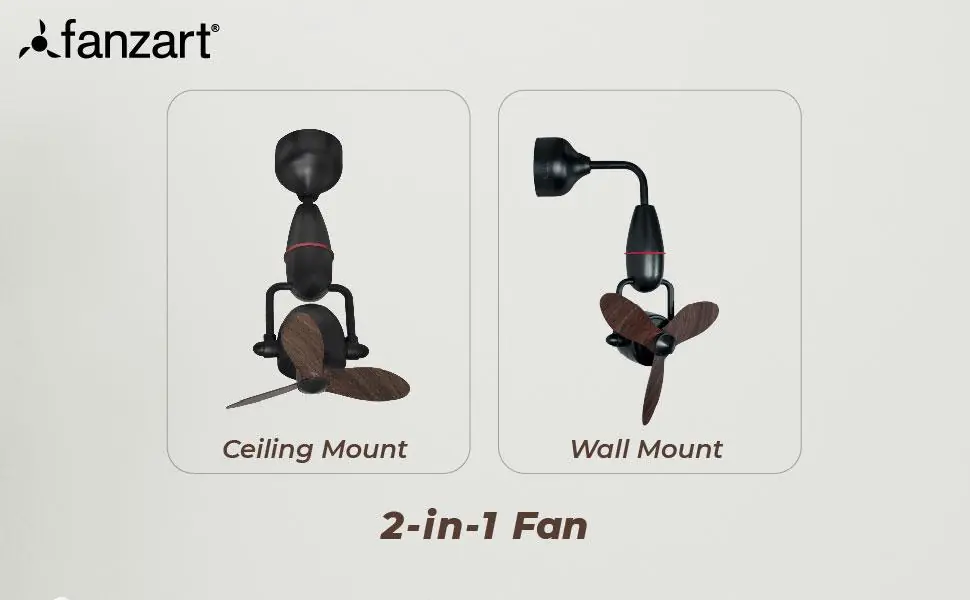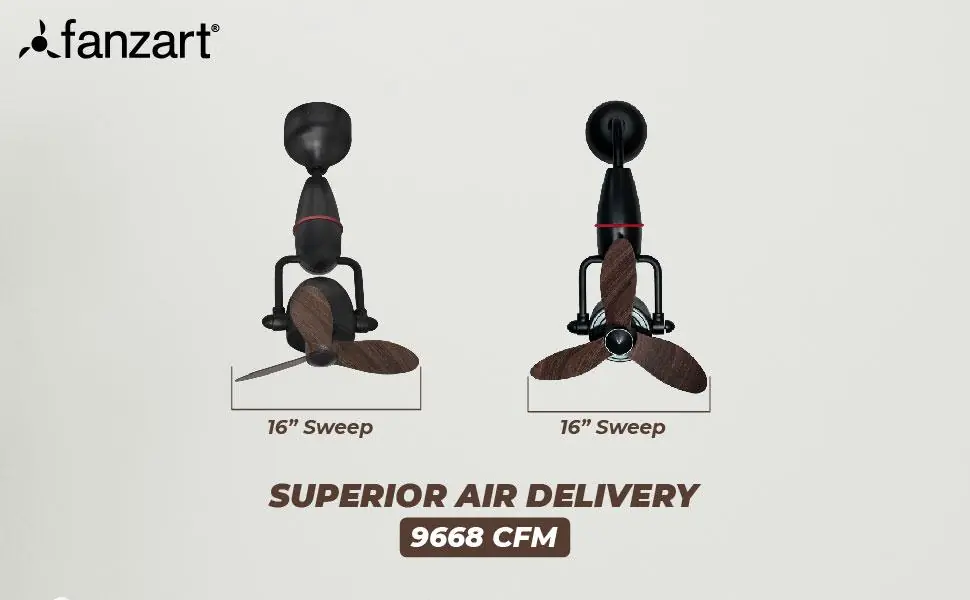 Key Features & Specifications:
Choose from two stunning finishes – Matte Black or Matte White – to suit your home's unique style and décor.
The Cliff fan features 3 ABS blades in Matte White or Spica Oak, elegantly crafted to deliver optimum airflow while maintaining a visually appealing aesthetic.
With a sweep size of 406 mm (16 in), the Cliff fan is perfect for smaller rooms and spaces where larger fans might not be suitable.
The fan is powered by a 106 x 15 mm DC motor, ensuring consistent and energy-efficient performance.
Cliff can be mounted both on the wall or the ceiling, providing versatility for different room layouts and preferences. The fan height is 610 mm (wall) and 640 mm (ceiling), with a distance from the wall of 265 mm.
The fan boasts a 90° oscillation feature, ensuring optimal air circulation throughout the room.
Despite its compact size, the Cliff fan delivers an impressive airflow of 9668 CFM, ensuring your space stays cool and comfortable.
Easily control fan speed, oscillation, and other features from the comfort of your seat with the included remote control.
In conclusion, the CLIFF by Fanzart is not just a fan – it's a statement of style, luxury, and advanced technology. It is the perfect solution for those smaller spaces in your home that deserve nothing but the best.  
With the CLIFF, you don't have to compromise on comfort or style. Transform your compact spaces into cool oases with this stunning fan from Fanzart. 
Explore our range of Best Luxury Ceiling Fans in India. Browse our collection, and find the perfect ceiling fan that suits your style and budget. Visit us for more information.